Autumn Camper Enjoys Surviveware Wet Wipes During Weekend Trip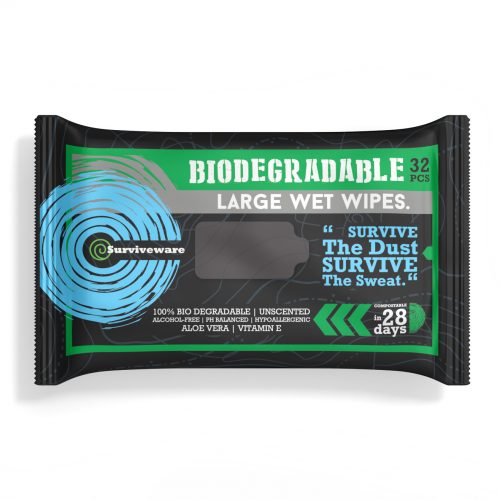 Woodbridge, United States - October 25, 2019 /MarketersMedia/ — Autumn brings days of vibrantly painted forests, cooler weather, cool nights spent camping, and warm days taking in the harvest season. The other side of fall hiking and camping is a high volume of hikers and jam-packed bathrooms. After a long day of hiking, it helps to freshen up before settling in for the night without having to wait in line to enjoy a shower. Having a pack of wet wipes that can provide you comfort after a long day is definitely a life-saver.
Surviveware's Biodegradable Wet Wipes, a BuzzFeed favorite product, has struck a chord among autumn campers and hikers who are looking for an alternative to showering during their seasonal trips. These wipes stand-out among its peers in large part due to its formulation.
Surviveware's wipes, which are available on Amazon Prime, are loaded with a hypoallergenic and nourishing formula that soothes and nourishes the skin without leaving any sticky residue. Since these wipes are alcohol-free, users are assured that their skin won't dry out, even from daily use. Despite the gentle formula, the wipes are strong enough to remove dirt, grime, and caked-on mud with ease. The sheets can even be used to clean oil and grease from camping gear and other equipment.
The Surviveware wet wipes are fragrance-free, which is perfect for hunters and campers who need to minimize the scent that they emit. Outdoorsmen, therefore, don't have to worry about attracting unwanted attention from wild animals and crawling critters. This is also ideal for individuals who are sensitive to scented hygiene products. They can freely use these wipes without triggering their sensitivities or allergies.
Unlike regular wet wipes, these Surviveware wipes measure 8" x 12," which is perfect for a quick body wipedown. With its size, an average-sized person can wipe off sweat and dirt with just one or two sheets.
Users love the durability that these wipes offer. The sheets are made of soft, durable cloth material that won't easily tear during use. Since the wipes are 100% biodegradable, users don't need to worry about their environmental footprint. The sheets begin to decompose within 28 days and are completely decomposed within 8-12 months, far shorter than regular wet wipes that take hundreds of years to disintegrate.
Surviveware's Biodegradable Wet Wipes have become an in-demand product among outdoorsmen and avid hikers. A Surviveware Amazon customer shared a review about his experience using these no-rinse wipes during a recent camping trip:
"I bought these for a camping trip, and they were great. Large enough to wipe down at the end of the day and are strong and durable. They are moist enough to clean your whole body without drying out, but not overly moist that you feel wet after using them. Great buy, and I'll be getting more."
Surviveware offers a 100% Money Back Guarantee! Order today, and you can purchase these wipes for 20% off when you use a Surviveware Amazon discount code.
This is a limited-time offer, so get your Surviveware Biodegradable Wet Wipes by clicking here.
Contact Info:
Name: Amanda Condry
Email: Send Email
Organization: Surviveware
Phone: 703-910-5188
Website: https://surviveware.com
Video URL: https://youtu.be/cNq7BjPdWAU
Source URL: https://marketersmedia.com/survivewares-biodegradable-wet-wipes-are-easy-alternative-to-showering-outdoors/88930619
Source: MarketersMedia
Release ID: 88930619