Surviveware Small First Aid Kit Gears Up Rider's Harley-Davidson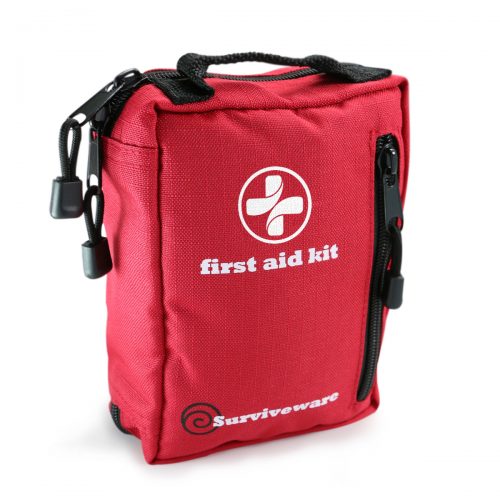 Woodbridge, United States - September 17, 2019 /MarketersMedia/ — According to motor safety studies, motorcycles are inherently more dangerous than cars. Despite making up just 3% of all vehicles on the road in the United States, motorcycles account for the majority of traffic fatalities and injuries each year.
With no steel covering to protect motorcycle riders, they are typically thrown off their bikes during a collision. This exposes them to potentially life-threatening or fatal injuries that require immediate care. Surviveware, a leading retailer of adventure preparedness products, developed a travel first aid kit perfect for motorcycle riders.
Surviveware's Travel First Aid Kit is a portable and lightweight pack that contains 100 provisions catered to the needs and requirements of motorcycle riders. This kit has enough supplies to last long travels and possesses a wide variety of items for treating wounds, bruises, abrasions, punctures, concussions, shock, contusions, and other common injuries. The bag also holds a CPR kit.
The kit is sought-after due to its portability. It can be carried using the MOLLE-friendly straps attached to the back. These straps can be conveniently attached to a motorcycle or bike rack, offering the user multiple convenient ways to ride safely. If one's travel gear is not MOLLE-supported, Surviveware's travel first aid kit can be attached to a carabiner and hooked on.
A major selling point of this first aid kit is its organized and labeled compartments. This kit's compartments with the content and quantity to inform users at a glance where a particular item is located. This feature is perfect for individuals who tend to panic in emergencies, or who have never used the kit. The bag also comes with a first aid guide that kit owners can use to familiarize themselves with the appropriate first aid care for any injury, or reference in an emergency.
Motorcycle riders have long trusted Surviveware for their riding and safety upgrades. Christopher, an Amazon customer and seasoned rider, shared his thoughts about the Surviveware Small First Aid Kit:
"The kit is awesome. I bought if for my Harley-Davidson when riding. It's got everything in I need, and more didn't even think off. It would be amazing if you could build into the external area a blinking light for being able to put it the side of the road in an emergency or to help you being found if out walking. I would recommend this kit to anyone it's brilliant."
Make all your road trips worry-free with the Surviveware Travel First Aid Kit. It's perfect for all vehicle safety needs. Take this opportunity to make the most out of your motorcycle, and car rides by and grab one of these trusted and reliable life-saving packs for all emergencies.
Buy yours today for an exclusive offer of 20% off when you use a Surviveware Amazon discount code. Order your Surviveware Small First Aid Kit now by clicking here.
Contact Info:
Name: Amanda Condry
Email: Send Email
Organization: Surviveware
Phone: 703-910-5188
Website: https://surviveware.com
Video URL: https://youtu.be/1fqvO3fYc8A
Source URL: https://marketersmedia.com/surviveware-small-first-aid-kit-recommended-safety-upgrade-for-motorcyclists/88919491
Source: MarketersMedia
Release ID: 88919491