Surviveware's Newly Released Large First Aid Kit Receives the Approval of Loyal Amazon Customers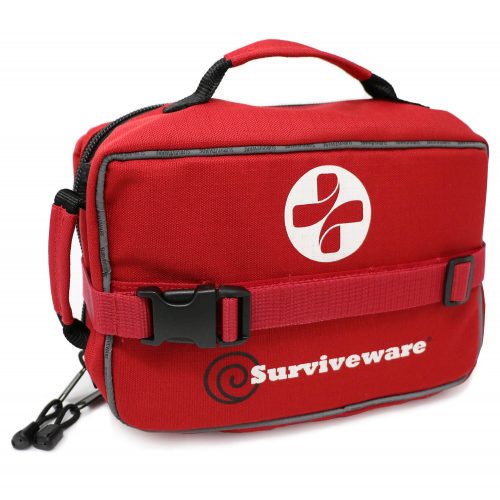 Woodbridge, United States - November 6, 2018 /MarketersMedia/ — Loyal customers who trust and recommend a company's product and services is one of the key building blocks of any business. Their recommendations and reviews are a testament to the company's consistency, innovations, and quality.
Surviveware, leading camping and outdoor adventure company, has grown its market niche by consistently providing customers with better options for outdoor and preparedness gear. Over the years, the company has developed high-quality gear tailored to the unique needs of its target market. The growing popularity of the company among hikers, campers, survivalists, and hunters is proof that more and more people are patronizing their products.
Surviveware's loyal customers express their satisfaction in purchasing Surviveware's latest innovational product, the Large First Aid Kit. This 3.3-pound life-saving kit contains 200 medical supplies that can address both minor and major injuries. Packed in resealable laminate bags inside of a 600D Polyester bag, all of the items are secured from water and moisture. The kit has a MOLLE compatible system making it convenient to be strapped and carried anywhere. It can be attached to a headrest, a rucksack, a tent, or placed inside kitchen drawers and cabinets. The large first aid kit also comes with a mini kit filled with supplies that can be attached to a belt or backpack. With these features and proven track record, this kit is a must-have for any preparedness situation.
The following review was written by an Amazon customer who is loyal to the brand for all of his first aid needs. He said that "this large Surviveware first aid kit is well equipped, organized and durable. I already own two of their small first aid kits, and they're great for backpacking and day hikes. This large offering is just as good. I appreciate the labeling on the inside pockets, which makes it easy to resupply after use. The case is made of strong, tough fabric and should last for many years. This large first aid kit is perfect as my travel kit and is a nice addition to the trunk of my car. I'm a "Be Prepared" kinda guy as an Eagle Scout and long-term scout leader, and this offering fits my needs very well. I would definitely buy this again."
Another Surviveware customer, Moxie, highlighted in his review the essential features of the expanded first aid kit and how well this large first aid kit fits his needs: "I bought (and still use) a smaller First Aid kit by Surviveware last year, and I have been impressed with the quality and contents of the kit and their customer service. I was recently looking for a larger kit that would be suitable for a broad range of situations but still be compact enough to travel with. Working at sea, I can be away from land for days or weeks at a time, and I don't like to chance that whatever boat I am on has a well-stocked first aid kit. I feel much better traveling with my own. In my free time I like to be in the mountains and, again, I feel much more comfortable traveling with a good sized first aid kit. I shopped around when looking for this larger kit and went with Surviveware again because of the quality of the previous product, comprehensive contents, value for money and customer service.
Having received the kit I am impressed with how well thought out it is. The bag is separated into compartments, each labeled with the type of contents (wound closures, eye pads, gloves, wound dressing, etc.). Each section of the bag is accessible, and no items are hidden - very important in an emergency. The bag itself feels like it will last a lifetime and it has some different attachment points/methods so that it can be stored or carried conveniently. I like the strap used to mount to the back of a car seat (the manufacturer has a picture of this). It allows the bag to be unzipped and fully open with all the contents still accessible while still attached to the seat.
The Surviveware labeled piping is a nice touch and shows an attention detail that is reflected inside the bag too. There is enough room inside the bag for a few additional items if you require something specific to your needs such as an EpiPen. If you haven't figured it out already, I am very happy with my purchase, and I recommend it to anyone looking for high quality and well stock first aid kit."
To thank their customers, Surviveware is giving away 20% discount coupons to the first 100 buyers of their Large First Aid Kit. Take advantage of this limited time offer and buy your first aid kit now!
Click here to get your coupon today.
Contact Info:
Name: Amanda Condry
Email: Send Email
Organization: Surviveware
Phone: 703-910-5188
Website: https://surviveware.com
Source URL: https://marketersmedia.com/surviveware-large-first-aid-kit-impresses-loyal-amazon-customers/439852
Source: MarketersMedia
Release ID: 439852