Surviveware's Biodegradable Wet Wipes Receives 2000th Amazon Review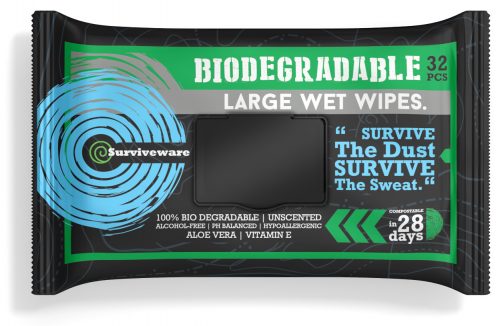 Woodbridge, United States - August 7, 2020 /MarketersMedia/ — Surviveware, a leader in adventure and outdoor survival gear, is pleased to announce its Biodegradable Wet Wipes have received their 2,000th customer review on Amazon. This achievement showcases the trust and appreciation of Surviveware's customers on Surviveware's line of hygiene products.
The Biodegradable Wet Wipes offer the ultimate solution to any outdoor hygiene needs. These camping cleansing wipes are known for their size and durability. A single sheet measures 8" x 12," so just one to two sheets is enough to refresh an average amount of dirt or sweat on a person. For a thoroughly soiled frame, three to four sheets is sufficient to remove stuck-on dirt, sweat, and mud. Containing 32 wipes, each pack will last a long time.
Surviveware's body cleaning wipes, which are available via Amazon Prime, are loaded with a hypoallergenic formula, free of alcohol, that is safe for babies and those with sensitive skin. Moreover, the sheets are infused with natural ingredients like aloe and vitamin E that nourish the skin during each cleansing. This added benefit prevents the skin from drying or getting irritated even after prolonged or repeated use.
Surviveware's camping cleansing wipes are ideal for individuals who are conscious of their carbon footprint while exploring the backcountry. The sheets are made of biodegradable fibers and contain no plastic, so they begin to disintegrate within 28 days after use, fully decomposing within 8 to 12 months, which is remarkably less than plastic-based wipes that take 200 years or more to break down.
Campers and hikers alike love the versatility of these biodegradable wet wipes. They can be used as a body refresher and a gear cleanser at the same time. They also work well for wiping hands, prepping hunting gear, and a myriad of other cleaning tasks.
Surviveware has grown to be a trusted brand among outdoorsmen and campers. Travis, a Surviveware Amazon customer, shared his experience using these Biodegradable Wet Wipes on his bike-packing trips:
"I use these while bikepacking, when I commute by bike for work and when I am traveling and I may not have access to a shower or if I need just something for a quick refresh. They work great! Love that they are biodegradable (I did an experiment and buried two in my yard and they were gone in about 3 weeks!). They are just wet enough so that you can feel refreshed after sweating. When bikepacking and away from civilization for days at a time I use these EVERYWHERE on my body and they are great! Great at getting that grimy-salt-skin-sweat feeling off!"
Get your Surviveware Biodegradable Wet Wipes today by clicking here.
Contact Info:
Name: Amanda Condry
Email: Send Email
Organization: Surviveware
Phone: 703-910-5188
Website: https://surviveware.com
Source URL: https://marketersmedia.com/surviveware-celebrates-milestone-of-biodegradable-wet-wipes/88971683
Source: MarketersMedia
Release ID: 88971683