Favorite Wipes from Surviveware Remains Preferred Hygiene Product Among Seasoned Outdoorsmen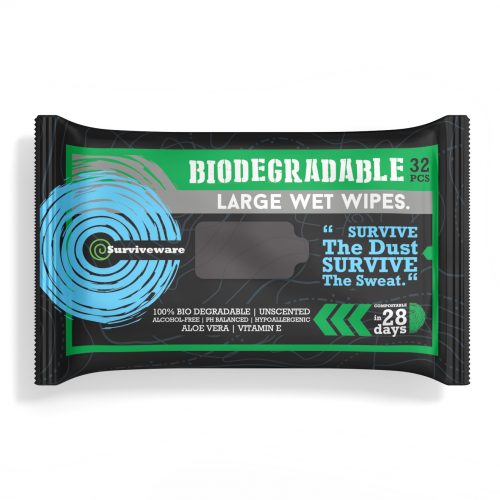 Woodbridge, United States - July 11, 2019 /MarketersMedia/ — Surviveware, a beloved brand among hiking, camping, and hunting enthusiasts, offers some of the most sought-after outdoor gear, reputed for their quality and functionality. This is evident in the consistently positive feedback that their Biodegradable Wet Wipes continuously receive. BuzzFeed's 'favorite wipes' have captured not only the attention of seasoned outdoorsmen but also that of avid gym-goers and homeowners.
These wipes stand-out among its competitors in large part due to its formulation. Each sheet is soaked in a hypoallergenic and nourishing formula that effectively cleanses the skin without causing dryness or irritation. The wipes are also fragrance-free, which is perfect for hunters and campers who need to minimize the scent that they emit. With Surviveware's wet wipes, outdoorsmen don't have to worry about attracting unwanted attention from wild animals and crawling critters. This is also ideal for individuals who are sensitive to scented hygiene products; they can freely use these wipes without triggering their sensitivities.
Surviveware, founded for those who want to boldly and consciously travel the world, composed these wet wipes of biodegradable materials, they begin to decompose within 28 days from use. The sheets will completely disintegrate within 8 to 12 months- far shorter than wipes containing plastic threads that take hundreds of years to decompose.
Unlike regular baby wipes, Surviveware's Biodegradable Wet Wipes measure 8" x 12," which is perfect for a quick body wipedown. An average-sized person can wipe off sweat and dirt with just one or two sheets.
Surviveware has changed the way hikers, campers, and fitness buffs hygiene on-the-go. In a review written by a Surviveware Amazon customer, he shared his experience using these wipes after his daily workouts:
"I got these for freshening up after a light workout because I don't always have enough time for both a workout and my full shower routine before work. They're very good for cleaning up a light sweat and making you feel generally fresh all over without drying out your skin the way something more like a Wet Wipe does.
I haven't yet taken them camping to see how they do with dust, but they're big enough and moist enough that I feel like they'd be pretty good for at least cleaning the dust off your face and hands. Overall a very solid product that does exactly what I wanted for a much better price than many similar products."
Seeking a product to combat the stink when camping? Grab Surviveware's Biodegradable Wet Wipes today for an exclusive 20% off when you use a Surviveware Amazon coupon code.
Order your Surviveware Biodegradable Wet Wipes by clicking here.
Contact Info:
Name: Amanda Condry
Email: Send Email
Organization: Surviveware
Phone: 703-910-5188
Website: https://surviveware.com
Source URL: https://marketersmedia.com/surviveware-biodegradable-wet-wipes-seal-success-with-700th-review/88895141
Source: MarketersMedia
Release ID: 88895141