New clever packaging organizes, displays and advertises retail products.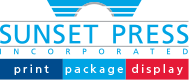 Austin, Texas,, United States of America - - May 13, 2014 /MarketersMedia/ — As every small retail establishment knows, how something is packaged and displayed when offered for sale is as important as the product itself, in terms of retailer's profits. By far the most cost effective means of both organizing and advertising visible inventory is by using what is known in the industry as point of purchase (POP) displays when exhibiting merchandise for customer perusal. Sunset Press, one of the nation's most well-known manufacturers of point of purchase inventory displays, recently unveiled a new low minimum high impact POP display - the clamshell counter box - for product presentation and storage.
"Point of purchase displays are the unsung hero behind many a retail establishment's success," claimed Sunset Press spokesman David Bristow. "Not only do our products help business owners keep track of how much inventory they have, letting them see at a glance what's right in front of them, but they're also a means of sorting and of organization. Most important, they're a quick and effective means of advertising." Sunset Press turns what would otherwise simply be standard packaging into what is, in essence, a targeted marketing piece. "Take this clamshell counter box,"
Bristow continued. "It is typical of the kind of product Sunset Press produces. It's intuitive. This sturdy box takes almost no time to produce, it sports exceptional graphics, features a robust design that protects the product and even permits stacking yet breaks down so that it can be shipped or stored completely flat." A key point of note regarding Sunset Press production products is the company's willingness to produce runs as small as 250 pieces, which permits the client the opportunity to test and/or refine a marketing idea in a small area before implementing it on a broader scale.
Sunset Press (www.SunsetPressInc.com) provides all of its clients the services of its experienced and skilled design team when a custom product is needed to serve a particular purpose. "We're top in our industry," said David Bristow. "Whatever it is that you need, however many pieces, whatever the shape, message, logo or intended purpose, we're your company." Sunset Press provides an array of point of POP and creative packaging products that range from single trays to counter stands to floor displays featuring shelves, cubbies, tear sheets, and hooks. In addition to display products, Sunset Press also offers custom printing materials and package inserts for its clients across the United States and Mexico.
About Sunset Press:
Sunset Press is a leading Austin, Texas based countertop cardboard display manufacturer of printing and point of purchase display materials for companies of all sizes. They design and manufacture packaging and display products that add value and increase profit margins for a wide range of clients.
Contact Info:
Name: David Bristow
Organization: Sunset Press
Phone: (512) 388-2533
Source URL: https://marketersmedia.com/sunset-press-unveils-new-counter-presentation-product/43829
For more information, please visit http://www.sunsetpressinc.com
Source: MarketersMedia
Release ID: 43829