Businesses discover they no longer have to settle for unattractive displays reports Sunset Press.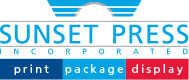 Austin, Texas,, United States of America - - April 4, 2014 /MarketersMedia/ — According to Hibbert & McGee, shoppers continue to make impulse buys, even though they attempt to avoid them whenever possible. During their research, Hibbert & McGee found that shoppers who go into a store for a self-described quick trip tend to spend 54 percent more than planned with 47 percent stating they make these types of trips three to four times a week.
"To ensure customers are seeing the desired items for sale, a company wishing to take advantage of these impulse buys needs to turn to a countertop cardboard display manufacturer to present the items in a pleasing manner, one that catches the consumer's eye," David Bristow ofA Sunset Press (www.SunsetPressInc.com) points out.
Companies looking to save money turn to Sunset Press for pre-engineered displays capable of being customized to meet the needs of the client. A fraction of what one would pay for a custom designed display, the pre-engineered displays remain sturdy, even with frequent use, and can be printed and manufactured with the client's high-resolution color graphic of choice.
"Many choose this display option as a number of styles are available, including a single tray counter display and a counter stand with two inch peg hooks, and many price points are available. Clients no longer have to settle for something that doesn't meet their needs just to get a product out to market fast. Sunset Press offers solutions to this common problem at affordable prices," Bristow explains.
When choosing a display, clients need to take many factors into consideration, from the theme of the product to the appropriate use of space. Weight limits need to be taken into account along with visual appeal of the various display options. "Clients turn to Sunset Press for all of their display needs, knowing this is a company they can count on when a rush job is needed or when a custom POP display is required. Sunset Press offers a wide range of products designed to meet the needs of every client served. Contact us today to see how we can be of help to you," Bristow declares.
About Sunset Press:
Sunset Press, the premier package, print and display manufacturing company in the Austin, Texas area, designs and promotes an array of products, including premium package, print and display items, to add value to client promotions along with profits to the client's bottom line. In the printing industry for more than 23 years, Sunset Press has successfully completed more than 40,000 projects through January 2013. Servicing companies across the United States and Mexico, the company headquarters in Austin and affiliate plants in Dallas work for businesses of every size, from ones just starting out to major companies recognized nationwide.
Contact Info:
Name: David Bristow
Organization: Sunset Press
Phone: (512) 388-2533
Source URL: https://marketersmedia.com/sunset-press-expands-options-for-pre-engineered-displays/39114
For more information, please visit http://www.sunsetpressinc.com
Source: MarketersMedia
Release ID: 39114