Sudoku players looking to improve their solving skills during self-quarantine and social distancing can use the courses from Sudoku Professor to learn tips, tricks, techniques, & solving patterns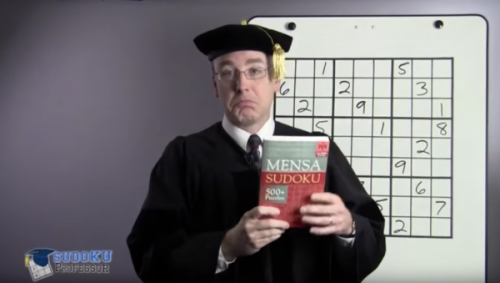 Raleigh, United States - March 30, 2020 /NewsNetwork/ —
Sudoku lovers across the globe are searching for sudoku lessons to solve the problem of boredom during social distancing.
Today the Sudoku Professor, a leading authority in online Sudoku training since 2008, unveiled a new Sudoku Essentials course for players learning the foundations of the game.
More information is available at https://www.sudokuprofessor.com
As people around the world practice social distancing and self-quarantining, many are turning to entertainment options like Sudoku.
The game of Sudoku requires players to use only the numbers 1-9 in columns, rows, and boxes in a grid to solve a puzzle consisting of known and unknown numbers. Sudoku is popular among players of all ages and appears in many newspapers on a daily or weekly basis.
Sudoku is also a popular source of entertainment online. Many websites and applications let players solve puzzles on tablets, cell phones, and computers, while some even help players connect with other puzzle enthusiasts.
The Sudoku Professor website offers courses and lessons for both beginner level players and advanced puzzle solvers alike. While the new Essentials course focuses on the fundamentals of solving with logic and easy to use techniques, the Professor's other courses contain lessons and walkthroughs designed to helped accomplished players who prefer harder, more challenging puzzles.
A satisfied student recently commented, "I tried to do the sudoku puzzles and was about to give up when I found your program. I love the videos. I have learned so much. Mostly I like being able to go at my own pace and watch the same videos as many times as I need to."
With a member's area that is accessible 24/7 online, students from around the globe learn Sudoku at their own pace with the Professor's simple and easy to understand lessons. This virtual learning style has been especially popular with the increase in social distancing in response to the spread of COVID-19. Students of the courses praise the laid back approach to teaching the fundamentals of the game.
"It's methodical, step by step in a video format that is easy to follow. The exercises after each lesson are valuable ways to reinforce learning.," said another student of the program. "If there was a college course on Sudoku, this is how it would look."
Another recent student of the courses had this to say, "I am enjoying the videos and they are very helpful, much more so than some of the other instruction I tried from the computer."
Since 2008, the Sudoku Professor has helped more than 150,000+ Sudoku players learn to solve harder puzzles and make fewer mistakes with online video lessons and tutorials. More information can be found at the web address listed above or by viewing videos on the Sudoku Professor YouTube channel.
To see his reviews of popular printed Sudoku puzzle books watch the video available at: https://www.youtube.com/watch?v=aZO5hkbaB2U
Contact Info:
Name: Chad Barker
Email: Send Email
Organization: The Sudoku Professor
Address: 4112 Campbell Road, Raleigh, North Carolina 27606, United States
Website: https://sudokuprofessor.com
Source: NewsNetwork
Release ID: 88951635