The Crypto-Rockstars Conference explores the industries that are set to be disrupted the most by blockchain technology and the various opportunities that are emerging from this technology.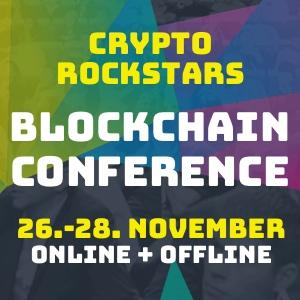 November 8, 2018 /PressCable/ —
Startplatz in Cologne's Mediapark, one of the biggest start-up hubs in Germany, is hosting the Crypto-Rockstars Conference 26-28 November 2018. This exciting blockchain event provides everyone with an opportunity to learn from thought provoking speakers and renown organisations within the blockchain community, focussing on the technology's influence regarding financial services, the development of blockchain applications, blockchain technologies and the budding opportunities for start-ups.
NEW YORK,NY (Press Authority) November 5th 2018
The focus is on blockchain technology and how it will eventually transform our world as we know it. It is an electrifying conference that is being embraced by the blockchain community, with some of the world's hottest influencers, and leading organisations joining the Conference's agenda, including Stephen Maccarty, CEO @ Malta Digital Innovation Authority, Batuhan Dasgin, Binance Angel @ Binance, Dr. Lorenz Graef, CEO @ Startplatz to name few.
For more details on the key expert speakers joining the Crypto-Rockstars Conference visit: For more information on the key expert speakers visit: crypto-rockstars.com/#speakers
The conference will explore the industries that are set to be disrupted the most by blockchain technology, which is potentially, all industries including government, energy, financial services, insurance, healthcare and even media, entertainment and arts. It will also look at the future opportunities that are emerging resulting from the development of blockchain and how start-ups can take advantage of these budding changes to come.
Crypto-Rockstars will also feature innovative use cases for blockchain start-ups, that have already started disrupting established, industry niche markets, especially banking. As a result the conference will have a strong focus on blockchain technology solutions.
Contrary to the more conventional blockchain conferences, Crypto-Rockstars is not exclusive to Bitcoin and blockchain enthusiasts; it is for everyone, open to the idea and curious about life changing technologies and how they will influence our future.
"We want to raise awareness concerning certain problems in the world's economic system, and especially, the international banking system. Many independent, financial experts have been warning us about a possible economic crash in the near future. Our objective is to present alternative solutions," says Thorsten Hunsicker, CEO @ Crypto-Rockstars.
Unlike conventional conferences, the Crypto-Rockstars conference is accessible to everyone, whether they attend in person or online. People who are unable to join the conference in person in Cologne, Germany from the 26th to the 28th November 2018, have the opportunity to watch the event online from home or they can purchase tickets to access the replays up to 12 months after the event date.
"Our mission is mass market education," says Hunsicker. "We believe people should be informed and understand the potential of blockchain technology and the alternatives already available to them."
Contact Info:
Name: Thorsten Hunsicker
Email: Send Email
Organization: Crypto Rockstars
Website: http://crypto-rockstars.com/
Source: PressCable
Release ID: 440216