Choosing What's Built to Last without Compromising your Style.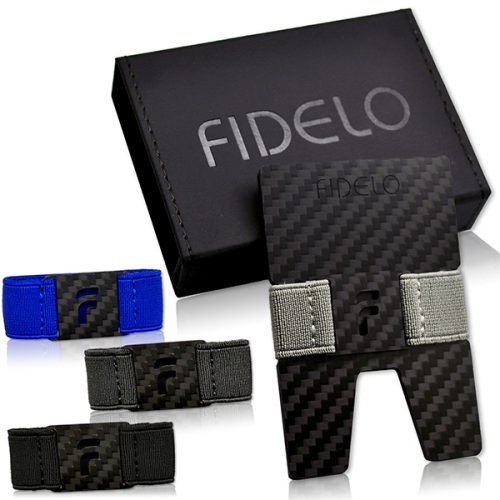 Blaine WA, United States - March 17, 2019 /MarketersMedia/ — Simplifying your life through minimalist style has been around for a while. Whether it's for your room or outfit, it is undeniably a key to easy elegance because of its lack of complications. If you're keen to try, but unsure if you can pull it off, then start it with something you carry when you're out – your wallet.
Minimalist wallet maker FIDELO creates highly functional products that improve the way you carry out items in your daily life. There may not be one specific wallet every gentleman needs but they have created something that actually adds value to your life, a genuine compact carbon fiber cardholder that is suitable as a daily wallet conveniently fitting all the cards and cash you will ever need to make it through your day.
Why size is the problem in most wallets? The bigger the size, the greater the chance users will be inclined to pack it full of unnecessary items. Men may have different needs, so choosing the right type of slim wallet such as The Prestige is essential to achieve an appealing look. Bulky wallets add on intrusive bulge to your outfit which is typically visible in the back pocket of pants and looks very unappealing. If you are worried about being deprived of carrying more cards than what most minimalist men do, usually between 2-4 cards, Prestige is well designed and well built to carry up to 15 cards efficiently. With its size of only 2.25" x 3.4", it eliminates the bulk of a conventional wallet. Having 4 different bill fold bands with small carbon fiber accents (Black, Charcoal Gray, Rocky Ridge Gray & Royal Blue), you can match it with any color outfit or mood.
As reviewed by its Amazon verified purchasers:
"I am a front pocket guy. I have been for years. I'm also a vegetarian. I do not use leather products. It's amazingly hard to find a quality wallet, that is minimalist, and also well thought out. The Prestige wallet is incredible. I will never use another wallet, as long as Fidelo keeps making them. Everything is so tight, and compact. All of the cards are so easy to get to, and best of all: this thing is built like an incredibly high end accessory. I'm so glad that I took a chance on this wallet, and you will be too." – "L.W", March 6, 2019
This has been a game changer for me. I use to have a huge wallet. Hated carrying it around. Bought this and changed the am way I operate with carrying only what I need for daily activities. Love this item." – "JasonO.", February 29, 2019
This Amazon top-rated minimalist wallet is undoubtedly sleek, strong and compact. Prestige is absolutely a combination of look and function that justifies the price. Considering a step toward minimalism, be sure to visit: Amazon.com
Contact Info:
Name: Jenna Parker
Email: Send Email
Organization: FIDELO™
Address: #16219, 1685 H Street - Blaine, WA, 98230 US
Website: https://fidelodesigns.com/
Video URL: https://youtu.be/TtZzh31eUUg
Source URL: https://marketersmedia.com/start-taking-your-style-journey-to-the-next-level-with-fidelos-prestige-minimalist-wallet-for-men/492995
Source: MarketersMedia
Release ID: 492995