Larry Paul, the artist previously known as LP Frey, has rebranded. The award-winning artist offers a wide range of artwork that is ideal for any area of the home or office.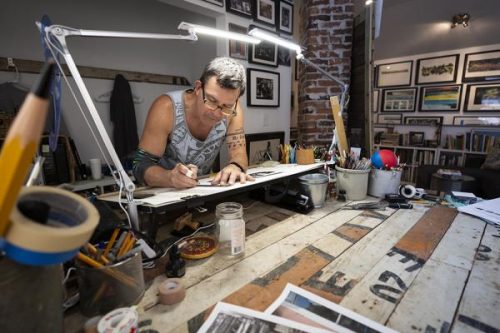 St. Petersburg, United States - October 29, 2020 /PressCable/ —
LP Frey, an award-winning artist, has now rebranded to be known as Larry Paul. Larry Paul creates various unique pieces of artwork such as pencil, prismacolor pencil and mixed-media pieces of art. Larry Paul's work is ideal for anyone that is looking for unique art for the living room or other areas of the home or office.
For more information please visit the website here: https://lpfrey.com
Customers will find that LP Frey, now known as Larry Paul, creates an array of different and original pieces of art. He is an award-winning artist whose collection also now includes multiple experiments, alongside other pieces of art. These aim to embrace the impressionistic realism and abstract expressionism drawing styles. Customers are able to peruse the various pieces of art in the website showcase.
Larry Paul's subject matter varies and is often old, decaying doors. These themes, named Thru Things, will often include not only decaying old doors, but also windows and other openings along buildings and other structures. In addition to this, facade-centric and busy streets scenes are the subject matter. Now rebranded from LP Frey to Larry Paul, the artist will sometimes sign using the earlier LP Frey moniker.
In addition to this, Larry Paul often includes the subject matter of the philodendron plant. This is due to the intricate and complex large leaves which enable depth of vastly contrasting light and shadow.
Larry Paul also frequently uses sunsets and volcanic skies that are inspired by the artist's visits to Anna Maria Island, Cortez, Florida and Hawaii, where Larry Paul previously worked as a ranger for the Hawaii Volcanoes National Park. In addition to this, he frequently uses angry thematic drawing expressions, aiming to present bold, erratic tones using strict color contrasting.
A spokesperson states: "An artwork is truer and more complete when revealing these qualities instead of cleaning them up for final presentation. Erasure, irregular perspectives, and unusual compositions are important elements of each style that give his drawings a certain edginess and friction. The closer one looks, the more poignant this edginess reveals itself."
Those wishing to find out more can visit their website on the link provided above. Additional details are provided at: https://lpfrey.com/about
Interested parties can also find out more at: https://lpfrey.com/gallery
Contact Info:
Name: Larry Paul
Email: Send Email
Organization: Larry Paul Creative Art Studios
Address: Historic Old Northeast, St. Petersburg, Florida 33701, United States
Phone: +1-941-545-8730
Website: https://lpfrey.com/
Source: PressCable
Release ID: 88983208