Springs Organic Labs introduces a unique Vitamin C Serum formulation with an All- Natural Zemea® Propandiol which is known to improve humectancy,absorption, effectiveness, excellent sensory characteristics and environmentally sustainable.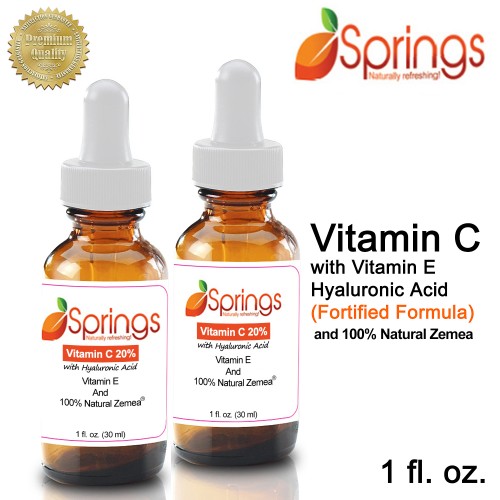 Blaine,, USA - - April 10, 2014 /MarketersMedia/ — Vitamin C is crucial for maintaining tissue health, and because it is not synthesized by the body, the only source comes from diets. Because it is integral to so many skin functions it is believed that topical supplementation ensures that the skin doesn't get neglected and prone to environmental and oxidative stress that leads to premature aging. This is because topical applications, as long as the antioxidants are in their fresh, non-oxidized form, will be targeted to skin tissue so that collagen production and antioxidant activities can proceed normally.
Vitamin C Serum is not only necessary for collagen production and maintenance, but it is also a potent antioxidant that can neutralize free radicals in the skin. Free radicals are atoms or molecules with an unpaired electron. They are very chemically reactive and short-lived. Because of this, their destructive power is limited to the place where they are created, which is mostly in the cells' mitochondria. Damage left behind can wreak havoc throughout the body, such as in heart muscle cells, nerve cells, and the skin. Unfortunately, free radicals are an unavoidable fact of life that must be dealt with every day.
Although the skin naturally has cellular enzymes and other metabolic processes to deal with this oxi-dative damage (antioxidants being one of them), aging and environmental stresses like sunlight, smoking, and pollution, can eventually overpower these protective controls.
Applying a low-molecular weight antioxidant like Vitamin C Serum is a very effective way to boost the skin's natural protection against age-causing free radicals. However, not all formulations of Vitamin C Serum have the ability to provide these anti-aging and anti-oxidative effects. The impact of a poor solvent or carrier in which the Vitamin C molecule is solubilized can affects its potency and effectiveness. Springs Vitamin C Serum is currently probably the only Vitamin C Serum formulated with the powerful, proprietary and all-natural Zemea® Propanediol. This all natural Zemea® facilitates the absorption of Vitamin C topically to create the quick and lasting anti-wrinkles, anti-aging and anti-oxidant effect Springs Vitamin C Serum is known for.
According to developer of Zemea® ; Dupont Tate & Lyle BioProducts, "Benefits include its high purity, lack of skin irritation or sensitization, improved humectancy, excellent sensory characteristics and environmentally sustainable nature. Naturally-derived, Zemea® is approved by Ecocert and certified by the Natural Products Association (NPA). Recent studies have shown that Zemea® can boost the efficacy of preservatives, potentially reducing the amount of preservatives needed in your formulation. It is currently being used as a cosmetic ingredient in many major hair and skin care brands around the world."
Vitamin C is an electron donor and therefore an excellent free radical scavenger. Once absorbed into the skin, this water-soluble vitamin can also help regenerate vitamin E that has been oxidized. Vitamin E is a potent lipid-soluble antioxidant that is important for preventing oxidative damage in the lipid cell membrane thereby acting as a strong anti-age agent. Springs Vitamin C Serum contains both Vitamin E and Hyaluronic Acid in their natural organic forms.
About Springs Organic:
Highly qualified scientists in the area of quality organic skincare products set their sights on producing an organic alternative to the aggressive and often dangerous dermatological processes currently used to deal with premature aging and facial wrinkles. Through extensive testing and research, with the highest quality, natural ingredients, Springs Organic Vitamin C Serum with Zemea® was created and released for use in March 2014. It is currently available at Amazon
Contact Info:
Name: Dr. G .U. Jean
Organization: Springs Organic Laboratories
Address: 1685 H Street #1192 Blaine Washington, 98230
Phone: 18883408834
Source URL: https://marketersmedia.com/springs-organic-labs-announces-a-unique-vitamin-c-serum-with-all-natural-zemea/39792
For more information, please visit http://lp.springslabs.com
Source: MarketersMedia
Release ID: 39792