Two South Florida business owners team up with a local church to make the country's new need for protective face-shields less of a burden and use the proceeds to feed hungry children in two states.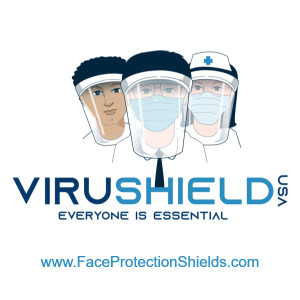 Miami , United States - May 28, 2020 /MarketersMedia/ — During these dark days of the 2020 COVID-19 pandemic, the country is seeing a light of hope as people get face-protection shields and food is being secured for hungry children, thanks to the quick thinking of two South Florida business owners and a local church.
During the lock-down, little has been heard about the 22 million children of impoverished families in America who are losing access to the food they received for their weekend meals every Friday in a backpack. They have found that their bellies like the backpacks they would take home prior to the shutdown… are empty.
An answer filled with hope came when Ms. Cristina (Cristy) Arce, author, small-business advisor, and owner of Captured Glory Miami a successful promotional products company, teamed up with Daniel Shalach a South Florida pastor and local advocate famous for providing free first-time homeowner's credit classes and feeding the Miami homeless population.
The duo embarked on a mission to help as many people as they could. This ushered in the genesis of ViruShield USA, a face-protection shield company who helps feed food challenged school kids on the weekends while providing protection for the everyday public.
15% of the profits goes to feed children on the weekends during the school year in both hard-hit New York City and South Florida. They have monthly contests to give 25 of their ViruShield USA face-protection shields to local businesses who enter and win.
Arce, the company's founder said: "When the idea hit me to team up with Daniel, I knew it was for something bigger than me and bigger than us. I wanted to help my clients re-open their stores, offices, and companies safely while helping children in need. I saw it as a marriage of fortuitous opportunities."
The confusion many have is not knowing the difference between face-masks and face-shields. Face-masks are to protect the spreading from the wearer to the public. While face-protection shields help protect the wearer by covering their full face, including their eyes and reminds the wearer to not touch their face.
On April 29th 2020, the Journal of the American Medical Association, experts led by Dr. Eli Perencevich of the university's department of internal medicine and the Iowa City VA Health Care System, said "the face shield's moment may have come."
The U.S. Centers for Disease Control and Prevention began advocating the use of cloth masks to help stop COVID-19 transmission in April, laboratory testing "suggests that cloth masks provide [only] some filtration of virus-sized aerosol particles."
According to Perencevich's group, "face shields may provide a better option."
To be most effective in stopping viral spread, a face-protection shield should extend to below the chin. It should also cover the ears and "there should be no exposed gap between the forehead and the shield's headpiece," the Iowa team members said.
True to their original intent, Arce and Shalach teamed up with local nurses, barbers, and store clerks to get feedback until the face-protection shields met both the CDC guidelines and the best comfort for the wearer.
"When Cristy called, I knew I wanted the face-shields to be for everyone from the E.R. nurse to the CEO or store clerk, hence our tagline "Everyone Is Essential"and to incorporate giving to the non-profit "Blessings In A Backpack" so we could help feed food challenged children. I believe that service is the rent we must all pay for taking up space on this planet and providing an opportunity for children to be fed is one way I chose to pay my rent." said Shalach
ViruShield USA has taken the extra step by registering with FEMA to be called upon in an emergency if needed, and they have made it possible for South Florida businesses to receive their masks as early as the next day.
To maximize their efforts, they teamed up with Miami millennial entrepreneur Samantha Quinones to distribute these to nurses, EMTs, and other medically essential workers at bulk pricing with a lower per-order requirement. "Working at Baptist Hospital has taught me that PPE is paramount for personal safety second only to proper handwashing. When I heard What Cristy and Daniel were doing I immediately volunteered my time to contact all my database and make calls to others. Many nurses were extremely grateful and shared that what they were being given by other places were inferior. As a sister to an EMT/nurse I was happy because I knew I was making a difference."
To contact ViruShield USA for personal, business or bulk orders, visit www.FaceProtectionShields.com and shop securely.
To donate to help feed children without purchasing our Protective Face-shields visit them directly at www.blessingsinabackpack.org. Thank you for your support.
Contact Info:
Name: Cristina Arce
Email: Send Email
Organization: ViruShield USA Protective Face-Shields
Address: 2665 S Bayshore Drive, Miami, Florida 33031
Website: https://www.FaceProtectionShields.com
Video URL: https://youtu.be/yvGlHiaHkHs
Source URL: https://marketersmedia.com/south-florida-has-a-new-way-to-help-defend-against-covid-19-and-feed-hungry-children-at-the-same-time/88959067
Source: MarketersMedia
Release ID: 88959067