Solving Sudoku is usually a good way to stimulate the mind, but The Sudoku Professor wanted to join the fight for something more - finding a cure for Alzheimer's. They raised more than $3,400...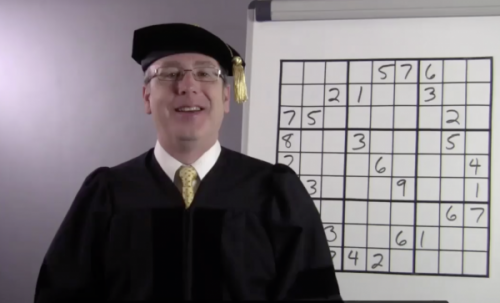 Raleigh, United States - July 26, 2019 /NewsNetwork/ —
The Sudoku Professor announced today a donation totaling $3,455 to help the millions affected by Alzheimer's each year.
The Sudoku Professor owner Chad Barker says he's always admired the Mayo Clinic Alzheimer's Disease Research Center and the work they do helping the millions affected by Alzheimer's each year. "I'm thrilled to be able to give to an organization that has given so much and done so much good over the years," offered Barker.
Recently, Barker and his family were among those affected. He experienced the tragic loss of his mother arising from complications related to her mental decline after a long bout with the disease. In response, he decided to ask the Sudoku student community for help. And rather than just solving Sudoku, they committed to helping solve a bigger problem.
"My mom died as a result of mental decline, and the Sudoku Professor folks responded with amazing generosity. The Mayo Clinic is world renowned and respected, and I cannot think of research center a more worthy of our donation," Barker said about the donation.
The Sudoku Professor ran a promotion to raise money for research in memory of Barker's mother. Students were able to make purchases to contribute a portion of proceeds directly to fund research for a cure. Many students and Sudoku players also chose to donate directly through The Sudoku Professor's fundraising campaign.
"Many of the [Sudoku] students have expressed how they use the game and the lessons to stay 'mentally sharp'…so I figured they would be willing to help raise money for a great cause," said Barker. "The response was almost overwhelming.. [and] an incredibly touching tribute to my mother's memory."
He said anyone who purchased the Bachelor's, Master's, and Doctorate Courses or other Sudoku Professor products during the promotion will now know "not only do they get the best 'Solve Solving System' for solving sudoku faster and with fewer mistakes, they also be helped the millions affected by Alzheimer's each year."
About The Sudoku Professor
The Sudoku Professor was founded in 2009 and serves the online Sudoku Solving Techniques & Training industry. It is known for simplifying the solving of sudoku.
Contact Info:
Name: Chad Barker
Email: Send Email
Organization: The Sudoku Professor
Address: 4112 Campbell Road, Raleigh, North Carolina 27606, United States
Phone: +1-919-421-4121
Website: https://sudokuprofessor.com
Source: NewsNetwork
Release ID: 88901335