Adam Levine Founder of 3Alx recently held one of the first live-streamed art exhibitions in NYC . The live-streamed event introduced artistic Pipe Art along with handcrafted display boxes by 30 legenadry street artists.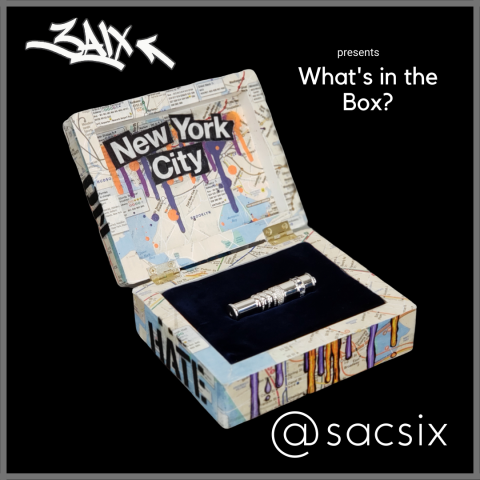 New City, United States - April 21, 2020 /PressCable/ —
April 19 at precisely 4:20 p.m. 3Alx (3-A-L-X) presented "What's in the Box?" an online , live streamed art exhibition in NYC. The exhibition featured artistic jewelry called Pipe Art, a solid platinum pipe adorned with 2.5 karat pave diamonds and 16 sapphires. The work of art is displayed in handcrafted wooden boxes by 30 legendary NYC Street Artists. Each box is artistically designed by the street artists with their unique and signature styles.
"It's a tough, elegant, affluent and GANGSTA work of art!" said Adam Levine founder of 3Alx who created the event.
Visit The Company Website For More Information https://3alx.com/
The artists include the great, Al Diaz, who along with Basquiat made up the famous graffiti duo referred to as SAMO. Additional artists include living legend, EASY, a graffiti writer and gallery artist along with icons Zimad, Duster ua and Terrible Tkid170.
The boxes are a way for the artists to showcase their work, but also serve as an eloquent display for the one of a kind hand crafted artisanal pipe. It is made of precious metals and jewels that were revealed during the live stream, all these pieces are one-of-a-kind, fully customized and never to be duplicated.
In today's new world, we're seeing many events being postponed or canceled due to Covid19. 3Alx, decided to stick to the plan and to go live instead with one of world's first, live streamed art exhibitions. "All the artists worked so hard on their creations and I promised I would promote them to the world and I planned on keeping my promise," said Adam Levine.
According to Adam Levine of 3Alx. "We will hold an art gallery show once the virus pandemic clears up at a date to be determined. In the current environment with social distancing so critical in NYC, we decided to do something novel with a live streamed launch showing that art is still alive and created through all the craziness".
Participating Artists Include:
Al Diaz, A Lucky Rabbit, AJ Lavilla, AngelOnce, Baston, Belowkey, Captain Eyeliner, City Kitty,
Dirt Cobain, Duster ua, EASY, Free Humanity, GoopMassta, Stephanie Grajales, Jeff Henriquez, Nite Owl,
Sara O'Connor, The Postman, Raddington Falls, Reggie Warlock, Renda Writer, Sacsix, Vincent Scala,
Savior Elmundo, Terrible TKID170, TRAP.if, Turtlecaps, Uncutt, Zero Productivity, Zimad.
The live streamed event with artist's highlight videos was produced by Silvertuna Studios in Queens NY .
3Alx owes a great debt of gratitude to the Lower East Side art community of NYC. So many artists are directly responsible for fostering a love of art that helped build a bonding relationship between Adam Levine and his children during the most difficult of times. Now, it's his turn to give back to a community that embraced the three of them and showed them so much love.
Contact Info:
Name: Adam Levine
Email: Send Email
Organization: 3Alx
Address: 1 Findlay Court, New City, NY 10956, United States
Website: https://3alx.com/
Source: PressCable
Release ID: 88954368