Social Metrics Pro had recently published yet another insightful infographic entitled, "10 Creative Secrets For Social Media Marketing" and has garnered in great feedback from the public once again.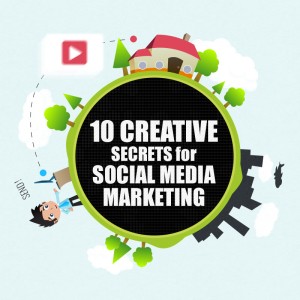 November 5, 2012 /MarketersMEDIA/ — The "10 Creative Secrets For Social Media Marketing" infographic proved to be another immediate hit with the general public and could very well succeed the first "21 Rules for Effective Social Media Marketing" infographic. Social Metrics Pro have been churning not only practical and applicable social media marketing tips, but they have done it in a visually aesthetic and pleasing manner such that people are actually intrigued and happy reading such infographics as opposed to the standard plain text articles that most blogs are currently doing.
Apart from teaching startups and fresh establishments that are only recently jumping onto the social media bandwagon trend, the infographic also serves as a good reminder for those who have been in this niche for quite some time. Almost everyone works a busy, hectic schedule and it is often easy to forget and take many things for granted but with the occasionally infographics that Social Metrics Pro produces, it is always a blessing to be reminded of what an organization should be doing, what is being done right and what can be done further to refine the business process.
In lieu to the release of their latest infographic, Social Metrics Pro has further elaborated on some social media tips and implications for the upcoming future of semantic web future with their latest pillar series - "Today's Guide to Social Media Marketing for Web 3.0". The series touches on the evolution of the web and some of things that affect Google search rankings, such as how social signals are taking over backlinks. This series basically highlights plausible actions that marketers can take today, in order to reap the future benefits of current social media marketing efforts.
The main takeaway from the social signals experts is that, there is an eleventh secret hidden within the infographic itself, and that is to do what the other key players are doing - creating more original and unique content that people like and want, rather than just copying it. Whether the clandestine message was intended or not, it is still a valid suggestion to be taken into consideration for any social media campaigns.
About Social Metrics Pro: WordPress users were finding it too cumbersome to keep an eye on analytics across all their social media channels so Daniel Tan, an expert in SEO and social media marketing, created Social Metrics Pro. This WordPress plugin allows users to choose the social media platforms they want to monitor for performance regarding their business, including LinkedIn, Google+, Facebook, Twitter and others. At-a-glance results are offered along with exportable reporting options to assure the most comprehensive set of tools. With this, webmasters and business owners are able to better succeed in increasing their search engine rankings and bring more traffic to their website.
Contact Info:
Organization: Social Metrics Pro
Website: http://socialmetricspro.com
Source URL: https://marketersmedia.com/social-metrics-pro-unveils-secrets-to-social-media-marketing/297
Source: MarketersMEDIA
Release ID: 297