Blazy Susan is known for retailing the much-beloved, Blazy Susan rolling trays. Smoking accessories, rolling papers, and dabbing accessories are just some of the other products that have been equally well received by users worldwide.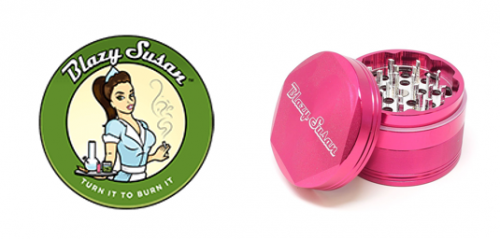 Denver, CO, United States - February 23, 2021 / / — According to announcements released by Blazy Susan and Ian Kelly, smoking accessories sold by this business are as popular and in demand as the rolling trays that have made this brand famous.
The Blazy Susan spinning rolling tray is the flagship product of this company. This one-of-a-kind rolling tray is made in America and carries a beautiful finish. This Susan is a must-have for weed smokers and dabbers who wish to have their paraphernalia within easy reach and arranged nicely. This is a functional product that de-clutters a stoner's table and is also an excellent conversation starter. It is designed for pipes, dab rigs, ashtrays, jars, grinders, papers, and everything else that a cannabis cognoscenti needs.
This is the most versatile of all rolling trays available in the market. It can hold cups of various sizes, carry grinders, and even features a phone insert to enable users to stream or watch videos while relaxing with a joint. Buyers can opt for a custom silicone debowler or dab station, or both together.
The Blazy Susans serve as excellent gifts for friends and family. They serve their purpose admirably at homes, offices, and definitely at parties.
The Blazy Susan pink rolling papers are imported from France. They are vegan, GMO-free, and do not contain chlorine. The odorless paper has a slow, even burn rate and is always made from wood pulp. This paper is rugged and resists tears and rips better than other rolling papers.
For more information, go to https://blazysusan.com/product-category/smoking-accessories
Ian Kelly of Blazy Susan said, "Our products are always made with our customers in mind, and we are all ears to feedback and suggestions from the community. We strive to be the kind of organization that this industry deserves – consumer-focused and forward-thinking.
Give the revolutionary Blazy Susan a spin and transform your cluttered coffee table into a tidy and organized conversation piece – your smoke seshes will never be the same. Try out some of our perfect Pink Papers while you're at it, and smoke in style.
The Birch Blazy Susan Dab Tray is designed by dabbers for dabbers. This little tray is the perfect home for your rig. Your order comes with a Dab Station, as well as a silicone dab pad and gold dab tool. Tidy up your dabbing space and keep it all on this tray so you can dab in peace."
Sharing information on Blazy Susan smoking accessories, Kelly said, "All of our smoking accessories have been rigorously tested for quality, and you'll enjoy great products at an even greater value. From grinders to bowl cleaners, grow your collection and enhance your next sesh with high-quality Blazy Susan smoking accessories.
Blazy Susan has helped bring high-quality smoking accessories to thousands of satisfied customers in places like Denver, CO, across the pond in the UK, and all around the world. If you're starting and need a little help understanding what smoking accessories are or how to use some of the products, we have some great resources for you."
About the Company:
Blazy Susan, founded by Will Breakell, is an online and offline retailer of quality smoking accessories, rolling trays, and other products valued by weed lovers worldwide. The products are designed based on community feedback and are a fine blend of functionality and great looks.
Contact Info:
Name: Ian Kelly
Email: Send Email
Organization: Blazy Susan
Address: 12445 E 39th Ave, Ste 510, Denver, CO 80239
Phone: 7202223663
Website: https://blazysusan.com/product-category/smoking-accessories
Source URL: https://marketersmedia.com/smoking-accessories-rolling-trays-dabbing-accessories-pre-rolled-trays-and-more-shipped-internationally-by-blazy-susan/88998531
Source:
Release ID: 88998531