Singer-songwriter Tiana Xiao is about to release her latest single "Imagine." Fans of future bass, namely The Chainsmokers or Alan Walker, will likely enjoy the song.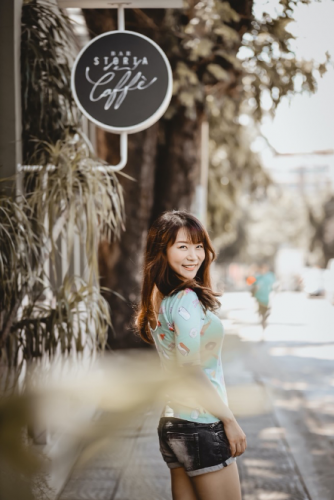 August 12, 2020 — The Chainsmokers or Alan Walker, will likely enjoy the song.
In 2016, future bass began to take off, though it is still a subgenre of electronic music that is continuing to evolve and take shape. "I've always enjoyed more melodic music," Tiana said, "For a while I was worried that songs that have a strong melody are not really relevant anymore."
"I even saw this video that was titled 'The Death of Melody' in modern music, where it talks about the evolution of music, and how nowadays, a lot of songs are mainly propped up by other elements in the song, like the beat. But I told myself, I want to write about and release songs that I like: melodic, and positive." And "Imagine" is exactly that—melodic and warm.
The message that "Imagine" sends is also a hopeful one. "In times of uncertainty, I want to release music that's uplifting, encouraging," Tiana says. The lyrics, written in a slightly longer form than most popular music these days, talk about the pursuit of one's goals and dreams. "Don't ever let them tear your dream apart," Tiana sings, "'cause it's worth so much more."
Fans of J-pop and R&B may remember Tiana from her debut a few years ago. Growing up in Los Angeles, California, Tiana took music lessons from a young age. When Tiana was 15, she flew to Japan to audition with Yoshiaki Sanada, who headed Virgin Records at EMI and produced J-pop Queen Utada Hikaru. Tiana then signed with Teichiku Entertainment, and worked with Grammy Award-winning producers, Jimmy Jam and Terry Lewis, who cut records with Janet and Michael Jackson, Prince and the Time, Usher, Mariah Carey, and more, as well as with Celine Dion's producer Tom Keane, on her first full-length album.
After releasing three singles and one full-length album, Tiana decided to take a break from music and finish college in upstate New York. "I wanted to pursue other things," Tiana says, "like going back to school and working in finance, which is another passion of mine. And I wanted to spend time with my family." After parting with her label, Tiana has continued to write songs, though initially she didn't intend to release them. "Recently I changed my mind [about the release of these songs]," Tiana says, "I feel like focusing on music really helps me through tough times."
"Imagine" will be available on August 18th on all major streaming and download platforms including Spotify, Apple Music/iTunes, Deezer, Amazon Music, and more. For more information about "Imagine," please visit www.tiana.cc.
"Imagine" Music Video Premieres Aug 18th.
About Tiana Xiao
Tiana Xiao is an Asian American singer-songwriter that grew up in Los Angeles and currently resides in Asia, flying between Hong Kong and Tokyo. Xiao initially debuted in 2008, mainly performing J-Pop and R&B, and later diversified her repertoire to pursue pop music more broadly, including EDM and C-pop. For more information about Tiana Xiao, please visit www.tiana.cc
Contact Info:
Name: Liam A
Email: Send Email
Organization: Tiana Xiao Productions Limited
Website: http://www.tiana.cc
Release ID: 88972228