Shutterball is a new device offered exclusively by Cellcom Communications to allow individuals to remotely activate their smartphone's camera by squeezing a colorful ball accessory.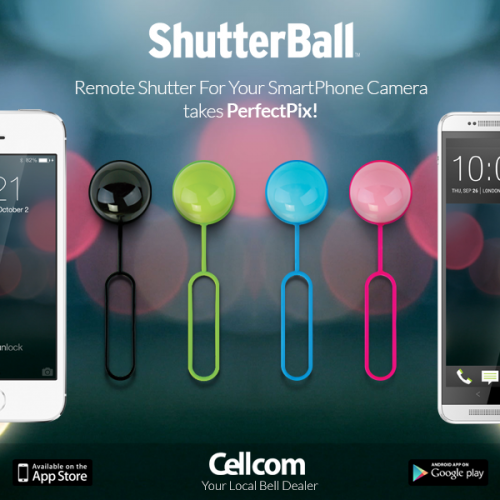 Montreal,, Canada - - May 15, 2014 /MarketersMedia/ — There was controversy when the word selfie entered the dictionary, but the ubiquity of the term guaranteed it a place. This is because everyone now uses their phones to take pictures of themselves and their friends, but their creative potential is hampered by always having to stay at arm's length of the camera. Now, they can be liberated, as Canadian telecommunications company Cellcom has garnered exclusive rights to sell the Shutterball: a small, spherical accessory that will activate the camera on a cell phone from afar.
Designed by manufacturing house Audiovox, the Shutterball is a brightly colored flexible ball that contains a squeeze trigger. It uses Bluetooth pairing to allow people to set up their phone camera and take pictures without having to touch the screen itself. The Shutterball can be used to snap a picture or to record and cut video capture.
The Shutterball, which has featured in the Ney York Times, is exclusively available through Cellcom Communications in Canada, and can be used up to sixty feet away from the phone, has a five year battery life and can act as a key ring when not in use. The product is already confirmed to work with the iPhone 5, 4, 4S, iPad Mini, iPod Touch 5th Gen, and the Samsung Galaxy S3, S4 and Note, meaning both Apple and Android devices can benefit.
A spokesperson for Cellcom explained, "The Shutterball overcomes one of the biggest obstacles for smartphone photography, allowing people to make it truly hands free. It is a far better solution than the timer installed on most cameras as it allows individuals to take time to compose their shots and take them when the time is right. The Shutterball is an affordable, colorful accessory that makes an ideal gift. Available in a variety of colors, it also comes with everything it needs to work effectively and immediately- just connect via Bluetooth and you're ready to start enjoying truly hands free photography."
About Cellcom Communications:
Cellcom Communications is a local Bell dealer specializing in the latest mobile, internet and TV technology. They are always ready to provide customers with fast, courteous and professional service. Their latest release is the Shutterball, allowing for hands free pictures from mobile devices. Cellcom has invested heavily in the area pertaining to wireless connection and continues to evolve in wireless technology. The company stands out for its leadership and innovation in this particular market. As such, it has expanded to 15 stores in the greater metropolitan area and continues to grow.
About Shutterball
ShutterBall, a small round device is exclusive at Cellcom, it works in tandem with a users smartphone. It connects through an application to Bluetooth and allows users to control their phone's shutter. It allows users to take a range of different types of pictures, be it selfies or a large group photo. Consumers don't need to worry about blurriness or distance - it works up to 60 feet away.
Contact Info:
Name: Anthony Sleiman
Organization: Cellcom Communications
Phone: 514.733.5000 ext.240
Source URL: https://marketersmedia.com/shutterball-launched-by-cellcom-communications-to-enable-hands-free-cell-phone-photos/44607
For more information, please visit http://cellcom.ca/shutterball
Source: MarketersMedia
Release ID: 44607