Scone Age has extended its love for finer things to the arts world. The bakery and café have collaborated with Ashley Brown; a well-known local artist. Walk into the café and get immersed in her finest art works.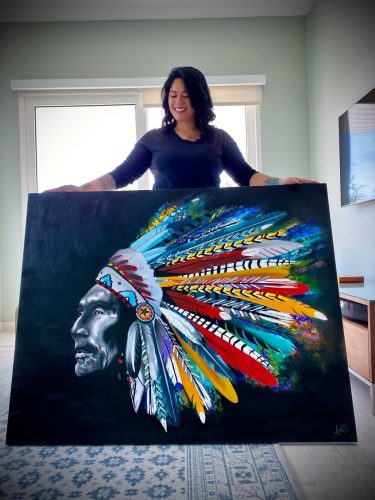 May 26, 2020 — Art has always had an omni-presence essence in our lives. Everything around us is a work of art, ranging from the mountains, water bodies, living things and the stars. The folks at Scone Age will dare to say the food they make and serve their clientele is a work of art in its own right.
In this vein, and artistic spirit, Scone Age has partnered with self-taught artist Ashley Brown, as the café in Dunedin has begun to feature some of her best art works.
Ashley Brown who just recently arrived at the art market scene in Saint Petersburg is a custom artist with an affinity for producing limited edition prints, original art, and illustration.
Ashley has created custom art works for a number of high-profile celebrities including John Travolta and DougEFresh.
Ashley's ability to draw or paint anything in any medium was what drew the media and art community's attention.
On Scone Age's website, Scone Age reiterates "We source our meats from local, humane farms where the animals aren't just cage-free, but roaming free in the fields, grazing, hunting, pecking and rooting like they are meant to. You will only find 100% Clean wholesome ingredients and foods made completely from scratch in our kitchen. It costs us more, but we think our customers are worth it."
This organic and natural process Ashley explores through Pyrography and aluminum prints amongst others is a confluence that resonates with the Scone Age ideal.
The partnership promises to bring the most exciting and explosive art ambiance to walk in customers that stop by at Scone age, Dunedin.
ABOUT ASHLEY BROWN
Originally from a little ole cowboy town in Northern California, Ashley grew up on a farm and learned horse riding from a young age, which undoubtedly sparked and nurtured her avid love for horses. She would spend time drawing them at the dining room table. That was when she discovered her artistic abilities. Her love for animals has continued to play a major role and cascaded with many other interests through the development of her current artistic style.
Reach out to Ashley Brown if you are looking to gift a loved one unique custom art pieces or visit her website to see some of her best works.
Contact Info:
Name: Ashley Brown
Email: Send Email
Organization: Artwork by Ashley Brown LLC
Website: http://artworkbyashleybrown.com
Release ID: 88958360