Best dispensary in Seattle is going above and beyond a typical cannabis store in Seattle, the business is now offering Elevated Education, complimentary cannabis classes for the community.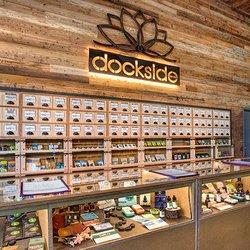 Seattle, United States - May 16, 2019 /PressCable/ —
Seattle, Washington- Seattle's best dispensary, Dockside Cannabis is more than just a shop to stop in for a treats and medicianl goodies, they are also dedicated to educated the public as well as fellow industry folks on all the ins and outs of the Cannabis commerce.
The business has announced they have a huge educational event coming up this weekend, Sunday, May 19th, from 7 pm until 9 pm at the SODO Dockside Cannabis location. The business regularyly holds no-fee Elevated Eduation classes, which include everything from Yoga with Three Moon Collective, Extraction Methods with Lo from Heylo Labs, Cooking with Cannabis with author Mary White, as well as Cannabis 101 classes and senior/medical professional outreach.
This Sunday's event however is focused on one hot topic, CBD, which is currently gaining in popularity across the United States and other regions of the globe. According to Dockside Cannabis, this is one cannabis conversation they have with their customers on a constant basis. This influx in inquiries led to the company's descision to conduct a class all about Cannabidiol, otherwise known as CBD.
The business is extrememly excited to announce this weekend's Elevated Education event which will feature panel discussions/Q&A Led by the directors of Project CBD & The Center for the Study of Cannabis and Social Policy. Anyone with a valid 21+ ID and is interested in a lively discussion around the latest developments in the world of CBD is encouraged to join Dockside Cannabis at the SODO location for a reside-chat-style discussion with Martin A. Lee and Zoe Sigman of Project CBD, and Dr. Dominic Corva of the Center for the Study of Cannabis and Social Policy (CASP).
Folks who participate in this weekend's Elevated Education event will have the pleasure of learning from Lee, Sigman, and Dr. Corva all of whom have impressive accolades in the CBD industry and are the top of their field.
Education classes and events are held regularly by Dockside Cannabis community and the company encourages its customers and anyone in the Cannabis trade to attend. The buisiness also offers Cannabis 101 classes as well as senior and medical professional outreach.
The classes are complementary and more information can be found on the company's website https://www.docksidecannabis.com/category/elevated-education/
Dockside Cannabis in SODO is located at 1728 4th Ave S, Seattle, WA 98134
The dispensary can be reached at 206-531-0156
Contact Info:
Name: Teri Bauer
Email: Send Email
Organization: Dockskide Cannabis
Address: 1728 4th Ave S, Seattle, Washington 98134, United States
Phone: +1-206-531-0156
Website: https://shop.docksidecannabis.com/sodo
Source: PressCable
Release ID: 513190