Education classes are taking place at Seattle dispensary, Dockside, in Greenwood. The business has announced they are the best dispensary in Seattle for learning about the culture and industry.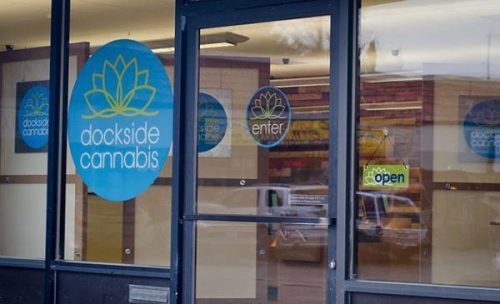 Seattle, United States - July 18, 2019 /PressCable/ —
Seattle, Washington- Dockside Cannabis Express in the Greenwood Area of Seattle has announced their Elevated Education classes for the month of August.
The Calendar is as follows:
Journeyman (Drop-in Meet & Greet) at Dockside SODO
August 2 @ 3:00 pm – 6:00 pm
Dockside SODO, 1728 4th Ave S
Seattle, 98134
Lifted (Drop-in Meet & Greet) at Dockside Ballard
August 2 @ 3:00 pm – 6:00 pm
Dockside Ballard, 4601 Leary Way NW
Seattle, WA 98107 United States + Google Map
Emerald Peaks and Seagoat (Drop-in Meet & Greet) at Dockside Shoreline
August 2 @ 3:00 pm – 6:00 pm
Dockside Shoreline, 15029 Aurora Ave N
Shoreline, WA 98133
Journeyman (Drop-in Meet & Greet) at Dockside Ballard
August 9 @ 3:00 pm – 6:00 pm
Dockside Ballard, 4601 Leary Way NW
Seattle, WA 98107
Emerald Peaks & Seagoat (Drop-in Meet & Greet) at Dockside SODO
August 9 @ 3:00 pm – 6:00 pm
Dockside SODO, 1728 4th Ave S
Seattle, 98134
Moxey's Mints (Drop-in Meet & Greet) at Dockside Shoreline
August 16 @ 3:00 pm – 6:00 pm
Dockside Shoreline, 15029 Aurora Ave N
Shoreline, WA 98133
Emerald Peaks & Seagoat (Drop-in Meet & Greet) at Dockside Ballard
August 16 @ 3:00 pm – 6:00 pm
Dockside Ballard, 4601 Leary Way NW
Seattle, WA 98107 United States + Google Map
Canna Organix (Drop-in Meet & Greet) at Dockside Shoreline
August 23 @ 3:00 pm – 6:00 pm
Dockside Shoreline, 15029 Aurora Ave N
Shoreline, WA 98133
Moxey's Mints (Drop-in Meet & Greet) at Dockside SODO
August 23 @ 3:00 pm – 6:00 pm
Dockside SODO, 1728 4th Ave S
Seattle, 98134
Canna Organix (Drop-in Meet & Greet) at Dockside SODO
August 30 @ 3:00 pm – 6:00 pm
Dockside SODO, 1728 4th Ave S
Seattle, 98134 United States + Google Map
Moxey's Mints (Drop-in Meet & Greet) at Dockside Ballard
August 30 @ 3:00 pm – 6:00 pm
Dockside Ballard, 4601 Leary Way NW
Seattle, WA 98107
For More information, folks are encouraged to visit the Seattle dispensary online at https://www.docksidecannabis.com/elevated-education-events/
Contact Info:
Name: Teri Bauer
Email: Send Email
Organization: Dockside Cannabis Express
Address: 8401 Aurora Ave N Suite F, Seattle, Washington 98103, United States
Source: PressCable
Release ID: 88897972