Preston Hudman's True Story About Spotify and the Negative Effect That Streaming Has on the Music Industry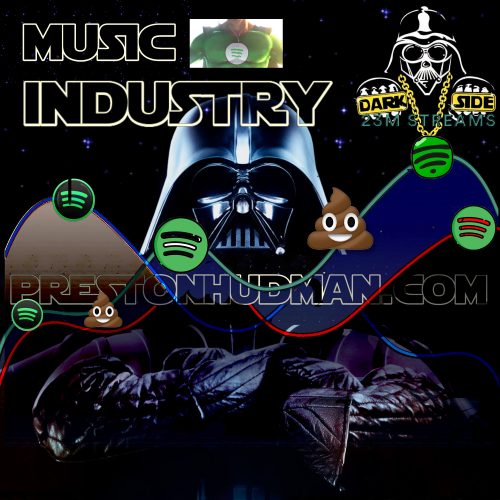 April 27, 2020 /MarketersMedia/ — They say streaming has saved the music industry but at what cost? You know that feeling like music has been getting worse and worse and more and more untalented artists are blowing up these days? This is actually streamings fault. You see marketers like Preston Hudman who have been pushing traffic to landing pages for years can now push traffic to a song link and get paid in royalties as long as the person listens for at least 30 seconds. This means that marketers are suddenly becoming musicians because they have the skills needed to make money at it whereas the musicians don't unless they also learn marketing. So being successful in the music industry has less to do with musical talent than ever before.
Preston makes his songs very short that way if a person only has 10 minutes to listen to music they will get through more songs and he makes more money. He doesn't always make 100% of the music by himself, instead he buys a license for the beat then does a freestyle rap over it several times using different lyrics each time, and releases multiple singles out of just 1 beat. It's expensive buying the license Preston says so he recommends using freebeats.io because of there $5 license. If you are going to pay more than $5 for a beat then I can imagine people wanting to make more than one song out of it because if f you change the lyrics to the song, change the length of the song, and re record the whole thing as well as use all new metadata, title, cover art etc. It will be counted as an all new song because it is an all new song. Preston has designed his workflow to make doing those tasks effortless and not so time consuming.
So there we have it, an influencer with over 1 million followers across social media who knows how to push his fan base to a link is making a bunch of mediocre songs and thinks he will scale. This is the dark side of the music streaming industry.
Preston says his listeners know what to expect and they stay as long as possible out of respect. He does provide great educational content covering topics like this one extensively on his other social channels those being Instagram (187k) LinkedIn (12k) YouTube (69k) Twitter (23k) TikTok (6k) SoundCloud (1.5k) and Pinterest (1k) and everyone seems to go to him to learn about social media. Now everyone wants to copy him and I suppose the first person to do what he's doing while also bringing professional quality to the table will be a huge hit. Unfortunately for Preston being a growth hacker is never going to amount to more than what he's already getting witch is why he is scaling laterally like I mentioned before. Pumping out more music is the only way for Preston to scale since his fans don't come back to listen to his music very often. Despite having a low number of monthly listeners the streams he is getting are converting to followers because he is at a whopping 470k in just one year! He expects to reach 1 million followers on Spotify by the end of 2020. Help him reach his goal by following him here... https://open.spotify.com/artist/3L8lfZuAQC5TbEMNpC5bqq?si=yj744H9WQuyvixJd4j803g
Preston Hudman is a music marketer who trains people one on one. He also does Press, SEO, Influencer Marketing, Spotify playlist placement and has a website called www.prestonhudman.com
We salute your efforts to teach us all about this industries most technical aspects while keeping yourself within the limits set by policymakers. Cheers!
Reach out to Preston at www.instagram.com/prestonhudman Send him a DM!
Contact Info:
Name: Preston Hudman
Email: Send Email
Organization: Preston Hudman
Address: 13407 43rd ave s Seattle WA 98168
Phone: 253-797-5093
Website: https://www.instagram.com/prestonhudman/
Source URL: https://marketersmedia.com/saving-the-music-industry-but-at-what-cost-the-dark-side-of-music-steaming/88955267
Source: MarketersMedia
Release ID: 88955267