Endorsed FilAm Republican Tony Villafranca candidate in the San Diego County Supervisor Election selects CandiMALL GOTV digital outreach tools-See http://tonyvillafranca4supervisor2020.gotv.store/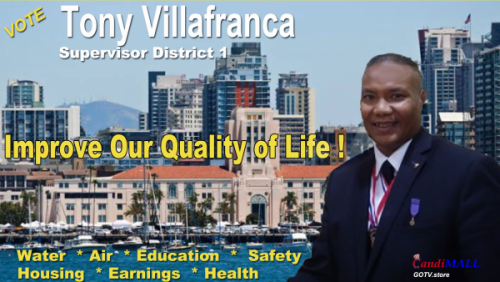 San Diego, United States - February 19, 2020 /PressCable/ —
Republican Candidate for San Diego County Supervisor District 1 Tony Villafranca, an expert realtor of more than 32 years from the South Bay has chosen CandiMALL GOTV Store digital toolbox suite to green his outreach to the voters in the March 3, 2020 election.
Tony Villafranca, an "Endorsed Filipino American" Candidate in San Diego CA, has decided to take his bid for SD County Supervisor green as well. His innovative plans to cleaning water and air are highly recognized by some drinking water experts globally. developing an international award winning water recycling and environmental learning center similar to one opened in the City of Industry October 2019 is something he would like to happen in San Diego. The Albert Robles Center for Water Recycling and Environmental Learning opened last month and it will produce over 3 billion gallons of water. To bring down expensive and unreliable water costs from the Delta and Colorado River. This would solve centuries of problems of too much water being taken from Southern California.
AS Supervisor Tony Villafranca will launch an air quality improvement strategy by contracting their trash program to a company using electric powered trucks. The first in the nation has launched in Carson, CA and the trash contractor could create additional jobs because their trucks could be assembled locally.
The political digital marketing agency, CandiMALL GOTV Store, offers political campaigns a suite of green digital tools for political outreach. Their Executive Vice President Antonio Inocentes II said, "partnering with Tony Villafranca and his San Diego County Supervisor 2020 team was a natural fit. We are a green company and Villafranca loves to do things green when it makes sense and is affordable, we don't use trees, and we don't pollute the air either campaigning.You can't be more green than the CandiMALL GOTV Store digital outreach toolbox."
Tony Villafranca added, "The fact that we are campaigning in the green shows who is the most committed to the issues and values that matter. and can improve everyone's quality of life In District 1. I will also like to create all-inclusive playgrounds where all kids can play together with their friends and siblings regardless of their abilities. Realtor Villafranca also mentioned his professional expertise as an 32 year realtor in the South Bay that includes urban planning and development, landlord-tenant law, and home buyer financing. These are the exact qualifications required to end the homeless crisis here. No one else brings these skills. These are the absolute skills required to end the homelessness crisis in San Diego." Villafranca closed his comments by sharing, "Others are promising,but I will deliver!"
Political candidates and other political campaigns looking for the best green campaigning digital tool solutions can view the CandiMALL digital tool box at https://gotv.store. Others interested can see an example of the Tony Villafranca for San Diego County Supervisor 2020 green web design can check out http://tonyvillafranca4supervisor2020.gotv.store
Contact Info:
Name: Tony Inocentes
Email: Send Email
Organization: CandiMALL GOTV STORE
Address: 1501 India Street Ste 103, San Diego, CA 92101, United States
Phone: +1-619-263-5900
Website: https://gotv.store
Source: PressCable
Release ID: 88947326