Supreme Court Justice Ruth Bader Ginsburg's rarest collectible card, with a print run of exactly one, is going up for auction on October 12th at Goldin Auctions.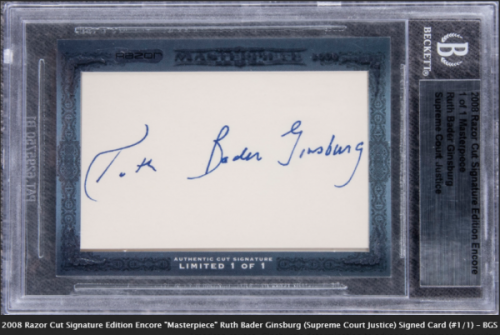 Runnemede, United States - October 13, 2020 /PressCable/ —
Goldin Auctions is auctioning Supreme Court Justice Ruth Bader Ginsburg's rarest card starting on October 12th.
The auction can be found at: https://goldinauctions.com/2008_Razor_Cut_Signature_Edition_Encore__Masterpie-LOT68244.aspx
In a time when sports cards are selling for astounding numbers; Lebron James for $1.845 million, Mike Trout for $3.93 million and Giannis Antetokounmpo for $1.85 million at Goldin Auctions, it will be interesting to see how the card of the most influential woman supreme court justice sells for at auction.
Generally speaking the most desirable cards of players are their rookie cards. A rookie card is generally the first card issued of a player from a "pack" containing a random group of cards from the set, and be the first appearance of that player after they went "pro." Some popular players have dozens of different rookie cards. Mike Trout had hundreds of cards he signed for his rookie card issues, but the one that sold for close to $4 million had a print run of exactly one.
The card that best qualifies as Ruth Bader Ginsburg's rookie card has zero competition. Razor Entertainment Group was the first company to produce a card of hers in their "2008 Razor Cut Signature Encore Edition." The cards feature cut autographs of a cut signature card of either a living or deceased celebrity, athlete, or other noteworthy personality. No other company produced a Ruth Bader Ginsburg card that year, it is her only rookie card. Additionally, the print run of her card is exactly 1 card. Meaning that if you own that card, no one else has her rookie card.
Ruth Bader Ginsburg died on September 18, 2020 at the age of 87 after having served as a Supreme Court Justice from 1993-2020.
Ruth Bader Ginsburg's significance is far greater to our society than any sports star, having become an icon by working tirelessly for decades to ensure true equal rights for women in America, and her impact extends far beyond fighting against sex-based discrimination. Her achievements include important victories in expanding voting rights, protecting the rights of the LGBT community, protecting undocumented and disabled people, and many others. It's ironic that as rare as her card is, its unlikely to come even close to yielding the same price, but who knows? Perhaps two wealthy fans of hers will battle over it the same way others have over cards of male athletes.
Interested parties can find more information on the next Goldin auction by visiting the website above.
Contact Info:
Name: Steve Lucas
Email: Send Email
Organization: Goldin Auctions
Address: 160 East 9th Avenue #suite a 160 E. Ninth Avenue Suite A, Runnemede, NJ 08078, United States
Website: https://goldinauctions.com/2008_Razor_Cut_Signature_Edition_Encore__Masterpie-LOT68244.aspx
Source: PressCable
Release ID: 88980438