Run 2X2 Veterans Will and Dustin, who are running across America, want people to know that they can show their support in person on their journey or online at Run2X2Vets.com.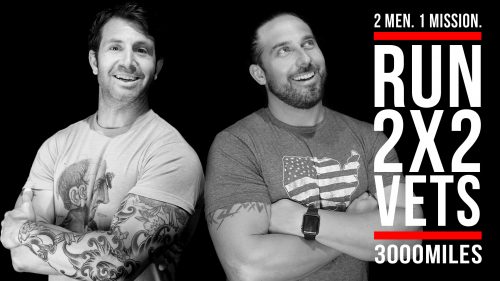 San Diego, CA, United States - May 16, 2018 /MarketersMedia/ — Run 2X2 Vets, Will Owens and Dustin Schnatz, took the first step of their inconceivable mission on May 1st in Imperial Beach, CA. Their mission … running across the United States in order to raise awareness and donations for organizations that aid veterans suffering from PTSD (post-traumatic stress disorder).
Their journey began at 7:30AM on May 1st from the Imperial Beach Pier and is scheduled to cover at least 2,895 miles, if all goes as planned. Their final destination is Virginia Beach, VA. All proceeds go to benefit veteran charities with donations and support in kind going to Project Build Up, a registered 501(c)3.
Primarily running at night to avoid heatstroke and traffic dangers, Will and Dustin have covered over 500 miles in their ongoing trek to reach the East Coast. There have been obstacles to overcome, but the two men and their dogs make the best of every situation, even rattlesnakes declaring "Don't Tread on Me". A motto familiar to Marines, and like true Marines, they will see their mission through.
Estimates from the U.S. Department of Veterans Affairs indicates that almost 31% of Vietnam, 10% of Gulf War, 11% of Afghanistan, and 20% of Iraqi War veterans are afflicted with PTSD. The sum total of these figures would suggest that nearly 450,000 veterans are suffering with PTSD.
According to a study by the RAND Corporation, approximately 50% of veterans with PTSD do not seek treatment and only half of those who are treated, receive what is termed "minimally adequate" treatment. All of this leads to an estimated suicide rate of 20 veterans, every day.
About Run 2X2 Vets
Run 2X2 Vets is charitable cause created by Marine Corps veterans, Will Owens and Dustin Schnatz. Their mission is to raise financial support and national awareness of veterans suffering from PTSD and the impact it can take on an individual, their family, and society.
For additional information regarding Run 2X2 Vets, visit www.Run2X2Vets.com
Photo Caption (L to R): Will Owens and Dustin Schnatz of Run 2X2 Vets.
Contact Info:
Name: Nikko Sanchez
Email: Send Email
Organization: Made by Awesome, LLC
Address: 319 10th Ave, San Diego, CA 92101
Phone: (877) 654-9095
Website: http://madebyawesome.com/
Video URL: https://youtu.be/C9vt5gL0MXQ
Source URL: https://marketersmedia.com/run-2x2-vets-reaches-500-mile-mark-in-mission-to-raise-awareness-for-military-veterans-suffering-with-ptsd/345451
Source: MarketersMedia
Release ID: 345451