Run 2X2 Veterans Dustin Schnatz and Will Owens crossed their self-imposed finish line, marking the end of an almost 3,000 mile long run, at the Virginia Beach Fishing Pier on July 7th, 2018.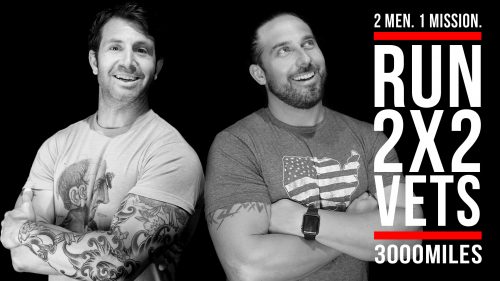 Virginia Beach, Virginia, United States - July 18, 2018 /MarketersMedia/ — Run 2X2 Vets, Will Owens and Dustin Schnatz, accomplished their mission of an awe inspiring 2,895 mile trek from the Imperial Beach Pier in California to the Virginia Beach Fishing Pier in Virginia. Their journey began on May 1st at 7:30AM (PST) and came to a finale on July 7th at 5:55PM (EST). To put that in perspective, they averaged over 40 miles a day for a total of 69 days.
When Dustin and Will were asked how they felt after accomplishing their goal, they were not sure how to answer. Both Will and Dustin said that, "Though we're tired, excited to have crossed the finish line and feel a sense of accomplishment, we can't help but think about the reason we're out here. And it's not about us."
They expounded further by stating the reason why they put themselves through such an arduous ordeal, "We did this to help our brothers and sisters who are having tough days find their sense of purpose again. We did this so their loved ones have an awareness of what PTSD is and know how to help before it's too late. We did this to save someone."
Run 2X2 Vets was born from the impassioned efforts of these two Marine Corps veterans. Both Will and Dustin are personally familiar with PTSD, due to their tours of duty, and the devastating affect it can have on an individual, their family, and society.
Will was inspired by the idea of running from San Diego, CA to Virginia Beach, VA in order to raise money and awareness for PTSD. Dustin knew that Will would need support, as well as motivation, so he unselfishly decided to be Will's "wing man". All proceeds go to benefit veteran charities with donations and support in kind going to Project Build Up, a registered 501(c)3.
Estimates from the U.S. Department of Veterans Affairs indicates that almost 31% of Vietnam, 20% of Iraqi War, 11% of Afghanistan, and 10% of Gulf War veterans are afflicted with PTSD. The total of these figures would suggest that nearly 450,000 veterans are suffering with PTSD.
The Law Firm of Gordon & Doner, PA was the lead sponsor of Run 2X2 Vets and continues to support the millions of Veterans who have honorably served our great nation. "Dustin's and Will's selfless efforts to raise awareness for those struggling with PTSD is commendable and a cause close to our hearts. It was our privilege to support them on their amazing trek across the United States," stated Adam Werner, the lead veteran benefits attorney for the Injured Veterans legal team at Gordon & Doner, P.A.
About Run 2X2 Vets
Run 2X2 Vets is charitable cause created by Marine Corps veterans, Will Owens and Dustin Schnatz. Their mission is to raise financial support and national awareness of veterans suffering from PTSD and the impact it can take on an individual, their family, and society.
For additional information regarding Run 2X2 Vets, visit www.Run2X2Vets.com
For additional information regarding veterans disability benefits, visit www.InjuredVeterans.com
Photo Caption (L to R): Will Owens and Dustin Schnatz of Run 2X2 Vets
Contact Info:
Name: Nikko Sanchez
Email: Send Email
Organization: Made by Awesome, LLC
Address: 319 10th Ave, San Diego, CA 92101
Phone: (877) 654-9095
Website: http://www.MadebyAwesome.com
Video URL: https://youtu.be/9tSfgeV4D9U
Source URL: https://marketersmedia.com/run-2x2-vets-accomplish-mission-of-running-across-the-u-s-to-raise-awareness-for-military-veterans-with-ptsd/379544
Source: MarketersMedia
Release ID: 379544