Alternative roofing materials can provide a more beautiful and unique look than shingles, Roofing Contractors Portland reports.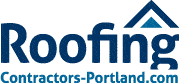 Portland, Oregon,, United States - - July 24, 2014 /MarketersMedia/ — Most people think of shingles when they consider roof coverings, but this is only one option. In some cases, a different choice may be better for a variety of reasons. Roofing Contractors Portland has released information on the coverings that work best in Portland's environment so that customers may better consider what to put over their heads.
"It's easy to choose shingles because they provide a good, all-around solution that will last for a long time," said Jack Luzinski of Roofing Contractors Portland, a site that provides roofing information and allows customers to get estimates. "Shingles, however, aren't very unique. Customers who want a different look need to check into other materials for their roofing needs."
When examining Roofing Contractors-Portland installations, many people are surprised to learn that metal roofing is a good option for the Portland area. Unlike the metal of old, today's residential options are beautiful and come in many colors and styles.
"Some metal panels are made to replicate the appearance of shingles, but fancier options imitate the appearance of ceramic tiles or cedar shakes. This can make a roof appear as if it was made of something much more expensive - and much harder to maintain - than metal actually is. For those who go for the shingle look, the objective is simply to have a roof that'll last much longer than the material it imitates. However, it's usually best to choose a style that looks like something more expensive because that will better enhance the appearance of the home." Luzinski explained.
Cedar shingles, also known as shakes, are good options for older or traditionally-styled homes. They look great and are very distinctive. Cedar, however, requires more maintenance to keep in good shape than either standard shingles or metal panels. This is one reason people choose imitation cedar shakes that are actually made of metal.
Other traditional roof covering options are also able to stand up to Portland's weather. Ceramic or slate tiles are some great-looking options. The reason they aren't very common is that they're expensive. Also, if a roof's support system is made for lighter materials, it will have to be upgraded to handle the weight of stone or other earthen options.
"In most cases, it's best to use ceramic or slate on roofs that are built for these things right from the start. Then, there is no need to rebuild an already-existing roof to do a new installation." Luzinski said.
Once a roofing material has been chosen and installed, it is unlikely to need repairs for a long time. Even so, it's a good idea to keep Roofing Contractors-Portland business information handy. This will make it easy to contact them to fix leaks or storm damage that may arise.
About Roofing Contractors Portland:
Roofing Contractors-Portland services include providing access to top contractors for roofing jobs and informing homeowners about every aspect of the roofing process. These aspects include how to choose contractors, what options are available for roofs, and what can be done about leaks.
Contact Info:
Name: Jack Luzinski
Organization: Roofing Contractors Portland
Phone: (503) 928-6674
Source URL: https://marketersmedia.com/roofing-contractors-portland-unveils-information-about-unique-roofing-choices/55857
For more information, please visit http://roofingcontractors-portland.com
Source: MarketersMedia
Release ID: 55857