Robot Cleaner Market was valued at $2.15 billion in 2018 and is set to grow at a progressive CAGR of 14.48% to meet the increasing demand for floor cleaning robots.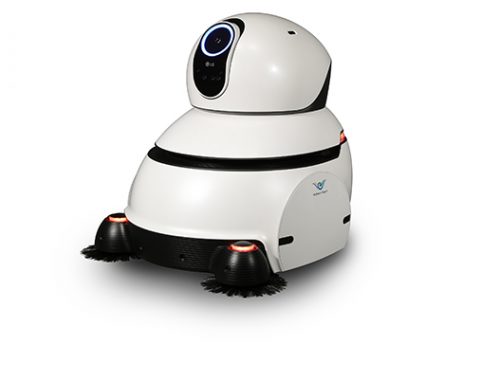 Hyderabad, India - August 14, 2019 /MarketersMedia/ — International Federation of Robotics World Robotics 2018 Service Robots report estimations states that sales of 3,000 industrial cleaning robots will happen in between 2019 and 2021. In addition to this, IndustryARC pinpoints that the global robot cleaner market was valued at $2.15 billion in 2018 and is set to grow at a progressive CAGR of 14.48% to meet the increasing demand for floor cleaning robots. This report covers Robot Cleaner Market Size by Product and by Ingredient, Robot Cleaner Market share by top 5 companies and also the market share by start-ups during the forecast period.
The report is titled: "Robot Cleaner Market: By Product (Indoor Cleaning Robot and Outdoor Cleaning Robot); By Mode of Charging (Manual and Auto); By Ingredient (Chelating Agents, Solvents, Surfactants, and pH regulators); By Applications; By Geography – Forecast(2019-2025)." This report presents the market opportunities, market trends, market size, market drivers, financial analysis, and strategic analysis of the global robot cleaner market.
View Full Table of Contents of Robot Cleaner Market:
https://www.industryarc.com/Report/18155/robot-cleaner-market.html
Report Price (Single User): US $3850
Global Robot Cleaner Market: Demand Analysis
Robotic vacuum cleaner is autonomous equipment which is incorporated with intelligent programming. It comprises of main health features such as UV sterilization and high-efficiency particulate air (HEPA) filter. Robot cleaner act as the best alternative for costly human labor. Floor-cleaning robot, lawn-cleaning robot, pool-cleaning robot, and window-cleaning robot are fairly common now. The professional service robotic market is foreseen to reach $37 billion by 2021. Robots are mostly utilized to perform repetitive work to save the time and to improve the efficiency of the same task, freeing human labor to concentrate more on intellectual and thought-intensive tasks in which the robots fail to do so.
Global Robot Cleaner Market: Leading Segments
Industrial cleaning robot is the fastest budding application segment of the robot cleaners market, projected to grow at a CAGR of 14.46% during the aforementioned period. As these robots are integrated using most advanced technologies, they autonomously clean any industrial surface and perform the application-specific tasks in the industrial cleaning processes.
APAC occupied a demand share of 35.61% in the global robot cleaners market as of 2018. Increasing usage of robots in China and Japan contributes to the leading share of APAC in the global robot cleaners market. Ladybird robots are widely used in the rest stop bathrooms all over Japan. Some of the notable robot vacuum cleaners in Asia are: ILIFE V5s Pro Robot Vacuum Mop Cleaner, iRobot Braava jet 240 Robot Mop, ECOVACS DEEBOT M80 Pro Robot Vacuum Cleaner, bObsweepPetHair Robot Vacuum Cleaner and Mop, Champagne, Housmile Robotic Vacuum Cleaner with Drop-Sensing Technology and Powerful Suction, for Hard Floor and Thin Carpet, eufyRoboVac 11+, iRobot Roomba 690 Robot Vacuum with Wi-Fi Connectivity, PureClean Automatic Robot Vacuum Cleaner, and Shark ION ROBOT 720 Vacuum with Easy Scheduling Remote (RV720).
Talk to one of our sales representative about the full report by providing your details in the link below:
https://www.industryarc.com/support.php?id=18155
Global Robot Cleaner Market: Disruptive Trends
A wide variety of industrial robot applications such as mopping, building maintenance, vacuuming, cleaning of industrial sites, glass cleaning for large buildings, polishing, maintaining disinfectant space and also removing toxic paints are boosting the growth of the robot cleaners worldwide.
Robot cleaners are more effective in automating the routine, dirty and dangerous work under safety measures and also in increasing productivity thus, they support smooth run of operations and create an aesthetically attractive workspace.
Renowned robots in primary and secondary sector industries yet to excel to a significant level in the service industry. Currently, a robot as a service is emerging at a faster rate and becoming the future of cleaning with its promising cleaning functions.
Global Robot Cleaner Market: Competitive Landscape
Some of the foremost companies listed in this report which are holding the major share in the global robot cleaner market are iRobot, Neato Robotics, LG Electronics, Samsung Electronics, Ecovacs Robotics, Dyson, Intellibot Robotics, Alfred K?rcher, ILIFE, bObsweep, Bissell Homecare, Miele, Cyberdyne, Vorwerk, and Monoprice.
Related Reports:
A. Cleaning Robot Market
https://www.industryarc.com/Report/16194/cleaning-robot-market.html
B. Industrial Robotics Market
https://www.industryarc.com/Report/10629/industrial-robotics-market.html
About IndustryARC:
IndustryARC primarily focuses on Cutting Edge Technologies and Newer Applications market research. Our Custom Research Services are designed to provide insights on the constant flux in the global supply-demand gap of markets. Our strong team of analysts enables us to meet the client research needs at a rapid speed, with a variety of options for your business. Any other custom requirements can be discussed with our team, drop an e-mail to sales@industryarc.com to discuss more about our consulting services.
Contact Info:
Name: Venkat Reddy
Email: Send Email
Organization: IndustryARC
Phone: +1-614-588-8538
Website: https://www.industryarc.com/Domain/10/industrial-automation-instrumentation-market-research.html
Source URL: https://marketersmedia.com/robot-cleaner-market-demand-augmented-by-introduction-of-floor-cleaning/88907545
Source: MarketersMedia
Release ID: 88907545