Licensed, Family Owned and Operated local plumbing company offers full service plumbing and HVAC services for commercial and residential customers in Richmond, Virginia, and surrounding areas.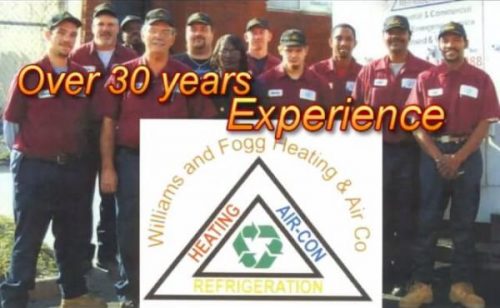 Richmond, United States - September 18, 2019 /PressCable/ —
The professionals at Williams and Fogg Mechanical also offer plumbing services with the HVAC and electrical services for commercial and residential customers in Richmond, Virginia, and in the adjacent counties and surrounding areas, such as in Ashland, Bon Air, Chesterfield, Glen Allen and Petersburg. Their plumbers provide professional services, such as for water lines, sewer lines, toilets, sump pumps, gas lines and kitchen sink drains. There are also services for repairing and installing dishwashers and garbage disposals.
The services include free estimates for the services and 24-hour emergency services for plumbing repairs to help customers to avoid a serious inconvenience. A plumber can complete an emergency repair for a customer who cannot close a business for a day or for a customer who can only meet with the plumber after regular business hours. Some customers who have used the services from Williams and Fogg Mechanical for heating and air conditioning systems may not know about the other services. Many customers experience a dilemma when making a decision about which business to phone for an emergency plumbing repair service.
For more information visit: https://richmondplumbingandhvac.com/
Common Plumbing Problems for Residential Customers- Several plumbing problems can inconvenience a customer, such as the problems from sink drains, toilets and sump pumps. The services for drain cleaning can be used to control the odors and the health hazards from a clogged drain, such as from the water in a kitchen sink that is from a drain pipe. Another common problem is the water damage from flooding that can be caused by a broken sump pump. Customers who have a large family usually experience a plumbing problem that requires the 24-hour emergency services for toilet repairs.
Plumbing Problems from Water Lines and Sewer Lines- The problems from the water line and the sewer line for a building can cause several other problems for a customer. A broken water line can cause water damage from puddles that are behind a wall. The odors from a clogged sewer line are a health hazard that can cause nausea and dizziness. Customers can conveniently schedule a rooter service for removing the debris and tree roots from a sewer line, which can block the water from flowing through the sewer line.
Plumbing Problems from Hot Water Heaters The problems from a hot water heater include water damage from a broken water pipe and the hazards from a gas leak from a gas water heater. The thermostat control for a hot water heater may not be functioning properly, which would cause the hot water heater to not heat the water to the appropriate temperature. There can be several other problems from the components for an electric or gas water heater. With regular inspections and maintenance services, customers can control some of the future costs for hot water heater repairs.
Problems from Gas Lines- Customers should rely on the services from a trained professional to safely replace a gas line or a component for a gas line, such as a control valve. The gas is flammable and can cause an explosion. With the 24-hour emergency services from Williams and Fogg Mechanical, customers can quickly contact a professional for an emergency gas line repair.
Several Professional Services from Williams and Fogg Mechanical
The benefits from having a professional business relationship with the employees at a business can include several advantages for a customer, especially when financing a repair service. The customer could choose to use several other services from the business after an HVAC repair service, such as for a heat pump. The professionals at Williams and Fogg Mechanical provide several important services, such as for AC repairs and for plumbing repairs, for commercial and residential customers.
They can be emailed through the message service on their website mentioned above or they can also be reached via telephone at 804-506-3021.
Contact Info:
Name: Ronald Fogg
Email: Send Email
Organization: Williams & Fogg Mechanical Services
Address: 1207 School Street B, Richmond, VA 23220, United States
Phone: +1-804-506-3021
Website: https://richmondplumbingandhvac.com/
Source: PressCable
Release ID: 88919933