The Realty Investment Club of Houston's Main Event in May will feature a panel of experienced and highly respected mortgage professionals from Houston's financial and realty community.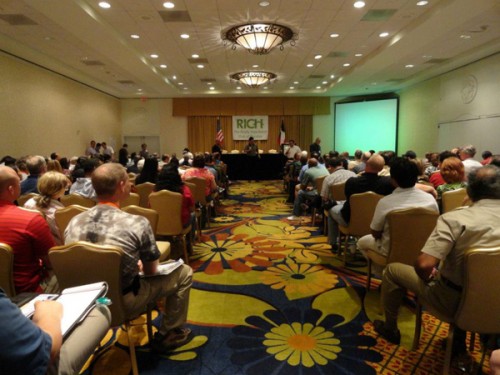 Houston,, USA - - April 24, 2014 /MarketersMedia/ — RICH's Main Event and Trade Show on May 3, 2014, will feature a panel of financial professionals to discuss all aspects of mortgages and how to create mortgage solutions to fit various financial strategies. In addition, Ray Sasser, past RICH President, will present his first 2014 Market Report on the Houston investor market. This event will provide information needed to develop realty investment strategies for the year.
All panel participants are knowledgeable of up-to-the-minute market information and are expert in applying that information to the advantage of real estate investors. They will discuss leveraging available investment capital, building cash flow quickly and simply through real estate, diversifying capital across multiple properties to spread risk and much more. The panel's combined experience and wealth of knowledge provides attendees an opportunity to get answers and gain knowledge regarding all aspects of investment transactions. Panel participants are:
-Johnny Hays of Jet Lending, LLC. Jet Lending was founded in 2004 and originates loans for investors for the purpose of rehabbing, reselling or holding investment property.
-Steven Kaufman of Zeus Mortgage. Zeus Mortgage is one of the fastest growing companies in the United States. Zeus experts are regularly interviewed by major television news channels for their expertise in real estate and mortgage markets.
-Phillip Carranza of Longhorn III Investments, LLC. Longhorn III Investments, LLC was formed in 2008. They are a hard money lending organization that provides loan servicing enhanced by their experience, expertise and access to sister companies that deal with title, legal and accounting services. They have years of experience in financial services, real estate marketing and real estate law.
-Blake Yarborough of Capital Concepts, Inc. Capital Concepts, Inc., was founded by Bake Yarborough in 1998 and has a long and successful history of providing expertise in the residential lending industry. Blake has a background in security and insurance, and is a real estate investor.
-Darel Daik, CEO of Noble Mortgage and Investments, LLC. Darel Daik has been a real estate professional and in the private lending arena for over 18 years. Noble prides itself on assisting investors with their real estate endeavors by offering no-nonsense feedback, competitive terms, flexible underwriting and impeccable service. Darel is affiliated with Austin Real Estate Investors Association and Realty Investment Club of Houston.
This panel has an unsurpassed level of market knowledge and contacts in the industry. Now is the perfect time to take advantage of low interest rates and an exceptional market.
The Realty Investment Club of Houston, established in 1979, is a non-profit trade association serving and providing for the real estate investment community of the greater Houston area. With over 1,000 members, RICH is one of the largest real estate investor associations in the country, promoting real estate investment, responsible property and project management while promoting sound, ethical business practices.
RICH members receive education, networking and discussion of real estate investing, as well as a long list of member benefits and services. Membership includes free admission to many RICH events every month: the General Meeting and Trade Show, Monday Night Workshops, and a growing list of Focus Group meetings. Its members include full- and part-time investors and everyone from accountants to attorneys.
May's Main Event and Trade Show will be on May 3, 2013, from 8:30 a.m. - Noon at the RICH Conference Center, 4220 Lockfield, Houston TX 77092. Registration is from 8:30 - 9:00 a.m. Ray Sasser will speak at 9:15 a.m. followed immediately by panel discussion. All members and guests are welcome. First time guests are free, $30 otherwise.
Contact Info:
Name: Roshan Bhatt
Email: Send Email
Organization: The Realty Investment Club of Houston
Address: 4220 Lockfield Houston TX 77092
Phone: 713-947-7424
Website: http://www.richclub.org
Source URL: https://marketersmedia.com/rich-hosts-panel-of-investment-mortgage-experts-at-their-main-event-on-may-3-2014/41173
Source: MarketersMedia
Release ID: 41173