Among experts, it's agreed that the pull-up is one of the most effective exercises for building strength & conditioning. Soon, doing pull-ups at home will be easier & more productive than ever thanks to the coming Multigrip Pull-up by Revolution Fitness.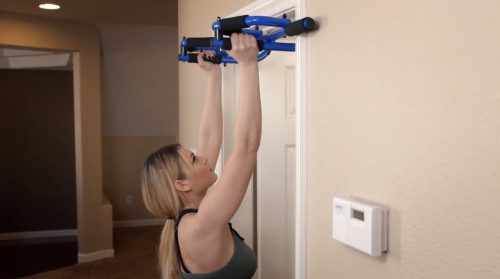 United States - June 17, 2019 — There's a great deal of debate in the fitness, strength training, and athletic world about what exercises to include in an ideal training program. The one that almost always is included, especially among the most well-respected methods is the pull-up. It's only natural then, for those who would like to train at home, to figure out a way to safely be able to do pull-ups. Unfortunately, nearly all home pull-up bars on the market today are poorly made, not very innovative and sometimes even unsafe. The good news is that the innovative exercise equipment company Revolution Fitness, who firmly believe in the pull-up's value in building strength, condition, and an attractive appearance have identified the problem of no good choices for home pull-up training and worked hard to solve it. The end result is The Multigrip Pull-Up, a breakthrough new doorway pull-up bar that they have recently announced a crowdfunding campaign to bring to an enthusiastic market.
"Without exaggeration, we analyzed every pull-up bar available for home use today exploring their positive qualities and their (many) negative ones," commented a spokesperson from Revolution Fitness. "We then took this information and used it to design what we truly believe is the ultimate home pull-up bar, The Multigrip Pull-Up. We have no doubt our crowdfunding campaign is going to be a success and once our customers get to use The Multigrip Pull-Up they will fall in love with it as much as we have. It is a better way to do pull-ups at home, period."
According to Revolution Fitness, The Multigrip Pull-Up can fit in nearly any doorway and allows users to be able to do pull-ups from a number of different grip positions which, not only allow muscles to be trained from different angles, it can also help prevent the wrist pain that traditional pull-up bars can cause or aggravate. Additionally, it helps put more emphasis on the core, which has to work harder to stabilize the body, thus helping build better abs, and build hand strength much more quickly.
The Multigrip Pull-Up comes with a lifetime warranty and is quick and simple to assemble.
An eye-opening video covering the breakthrough next-generation pull-up bar can be seen here.
For more information and to support the crowdfunding campaign for the Multigrip Pull-Up by Revolution Fitness be sure to visit https://www.revolutionfitlv.com/free-pullup-bar, where signing up for the brand's e-mail updates gives the subscriber a chance to win a free Multigrip Pull-Up! Plus, you can stay part of the conversation on social media at https://www.facebook.com/Themultigrippullup.
About Revolution Fitness
Revolution Fitness is a Las Vegas, Nevada-based breakthrough HIIT, Circuit Training, and fitness equipment company dedicated to bringing the best quality products to the market possible that deliver real results to their valued customers.
Contact Info:
Name: Scott Del Valle & Bonito Sahagun
Email: Send Email
Organization: Revolution Fitness
Website: https://www.facebook.com/Themultigrippullup
Video URL: https://youtu.be/PyTpuuDktE8
Release ID: 524893