ReviewSteamShower.com reviews steam showers, but goes a lot further than that, reviewing four key ancillary elements of the experience to ensure they offer the most comprehensive advice possible.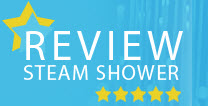 San Francisco, CA,, United States of America - - July 4, 2014 /MarketersMedia/ — A steam shower generates a fine mist of steam that combines the best features of a steam room with the practical hygienic uses of a shower. This innovative product is so popular that many manufacturers aim to create the ultimate steam shower, and even more websites aim to sell them. Not all are reputable or high quality however, and Review Steam Shower is an honest steam shower review site that aims to give independent, in-depth advice about where is best to buy a steam shower, and what product is best to invest in.
Their new unique four-stage review system includes a website test which takes into account usability, helpfulness and payment options. They then conduct a phone test, ringing the customer service team and assessing their ability to answer key questions about the products they sell. After that, the company reviews the product received, and finally the price compared to others in the market. All this is aggregated to create an overall view of the company as a whole.
That is only one side of the story however, and their review makes room for real feedback from real users which are unfiltered to provide the truest account of actual experiences with each company. The site then splits its rankings between the top steam showers UK and US, so their primary audiences can look at companies in their home countries.
A spokesperson for Review Steam Shower explained, "We aim to provide the most comprehensive independent resource guaranteed to help people make informed consumer decisions when buying steam showers. By using our top company countdowns organized by country, individuals need not spend more than a few seconds on the site to find the best reputed sellers or manufacturers online, or they can spend as much time as they need carefully examining the reviews to find that we have painstakingly combed every detail to arrive at the conclusions we have."
About Review Steam Shower:
Review Steam Shower is the only independent voice on where consumers can find the best products and services when shopping for a new steam shower. The site takes advantage of inside knowledge and puts each of the top online sellers through their paces, providing an editor's review as well as, unfiltered, honest and straight forward thoughts from real customers.
Contact Info:
Name: Joe Bragg
Organization: Brandoutreach
Phone: (415) 632 1664
Source URL: https://marketersmedia.com/reviewsteamshower-com-launches-steam-shower-review-system-based-on-purchase-experience/53307
For more information, please visit http://www.reviewsteamshower.com/
Source: MarketersMedia
Release ID: 53307