Award-Winning Author and Speaker, Reverend Sheila Tolbert, announces the release of her new book titled "Prayer Journal: Seven of the Baddest Girls in the Bible Inspiring Your Spiritual Transformation".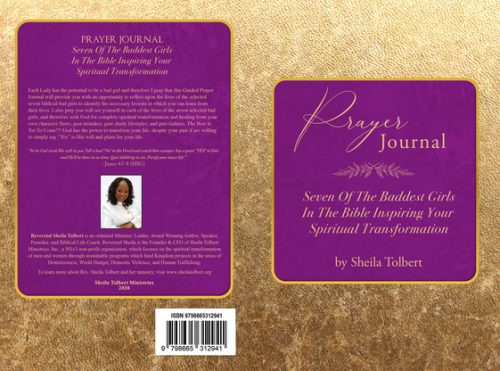 August 11, 2020 — Reverend Sheila Tolbert is the founder of Sheila Tolbert Ministries Inc., a non-profit that aims to help people through the process of spiritual transformation via a wide range of sustainable programs. In a similar vein, the award-winning author and speaker recently released a new book titled "Prayer Journal," this guided prayer journal for women aims to help readers learn from other women's sinful mistakes.
Every individual requires a connection with God to have a happy and rewarding life. However, this is not usually easy, especially for people that have seemingly strayed from the right path for a relatively long while, leaving many people feeling helpless and without any possibility of becoming new. Technological advancements and the emergence of modern technology have made it even more difficult for tons of people to know the true values in life. These are the narratives that Sheila Tolbert is looking to change with her recently released guided prayer journal for women.
The Prayer Journal is unlike many other biblical books as it is authored to serve as a biblical journal to help every reader become a better woman while leveraging the power of self-awareness, self-reflection and the power of God's forgiveness. The book chronicles the story of the seven "baddest" girls in the Bible with the goal of helping readers learn from their mistakes and avoid committing similar sins.
The book contains Seven Life-Changing Biblical Stories, a Personal Prayer Section, Personal Reflection Section, and a section for Spiritual Transformation, Deliverance, and Healing to help every woman to start her spiritual journey towards wholeness, purity, and righteousness.
"Prayer Journal: Seven of the Baddest Girls in the Bible Inspiring Your Spiritual Transformation" is currently available on Amazon for interested readers across the globe.
For more information about the new book and other works from Reverend Sheila Tolbert, please visit – www.sheilatolbert.org.
About Reverend Sheila Tolbert
Reverend Sheila Tolbert is an ordained Minister, Preacher, Award-Winning Author, Speaker, and Biblical Life Coach. She founded Sheila Tolbert Ministries Inc. as a 501c3 non-profit organization to focus on the spiritual transformation of men and women through sustainable programs to fund kingdom projects in the areas of: homelessness, human trafficking, domestic violence, and world hunger.
Contact Info:
Name: Reverend Sheila Tolbert
Email: Send Email
Organization: Sheila Tolbert Ministries Inc.
Website: http://www.sheilatolbert.org
Release ID: 88972227