WiFi ROi is a new business service by Reputation Media TV – a division of Circle Consulting Agency, for upgrading new or existing WiFi in businesses to capturing social media data from customers, re-target free WiFi users and automatically generate an email list for future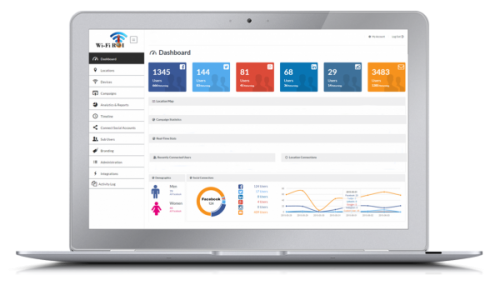 Sicklerville, United States - September 29, 2016 /PressCable/ —
Reputation Media TV – a division of Circle Consulting Agency, has come up with an innovative brand marketing solution for businesses that will allow them to build a loyal network through their free WiFi service. With their new service WiFi ROi, a free Wifi service can be transformed into an automated lead generation machine which can be used to engage customers and create repeat and new traffic. Even if a business does not currently offer free WiFi this service will make it possible to create lasting relationships with customers.
To see how it works, click the following link: WiFi ROi
Daemon Rutledge, Founder & CEO of Circle Consulting Agency, and Executive Producer of Reputation Media TV is excited about the many opportunities this new service will provide for businesses to increase their revenue and foot traffic. "It's very common to see restaurants, bars, retail stores, hotels, night clubs, and more, offering free WiFi to attract customer and keep them happy, so why shouldn't your business also take benefit from it. Our WiFi ROi service will capture social media data from your customers who use your free WiFi. This data will allow re-targeting people, who use your WiFi, to be more effective. In addition, the business will automatically generate an email list; get more reviews, and referrals, easier and on autopilot; push app downloads and promotions, or even host a sponsorship network for other local businesses to market on their WiFi. This type of WiFi Marketing is the lowest cost and most effective advertising system that produces amazing constant return of investment!", says Mr. Rutledge.
In this age, more than 62% of customers make a choice of where to eat and drink based on the availability of free WiFi; and over 75% of consumers are influenced by the availability of WiFi when shopping, so it is an important component to the consumer traffic that comes for the product or service a business is offering. With WiFi ROi, when customers connect to a business's free WiFi, they will be directed to a landing page which will request them to log-in with their social account like Facebook, Twitter, LinkedIn, Google, or Instagram, or the customer can use their email account or mobile phone number to access the Free WiFi. Businesses can then increase social customer engagement by encouraging users to 'Share' and 'Like' the Facebook business page, or send out a tweet, for which they will be rewarded by being redirected to the in-store promotions and special offers page of the business.
This WiFi upgrade service is a win-win situation for both customers and businesses because through WiFi ROi, customers are able to enjoy free WiFi without the hassle of long passwords and using their own mobile data. While the businesses can automatically gather valuable consumer analytics, grow social media fans, increase sales and leverage future marketing campaigns.
Reputation Media TV has developed 4 different packages to meet the needs of different businesses, based upon needs and goals. However, the WiFi ROi service is capable of being customized to any size business that wants to reap maximum benefit from this high ROI marketing opportunity.
WiFi ROi will also enable businesses to limit the amount of bandwidth, and time frame, that each user can consume which ensures that all customers are able to enjoy the free WiFi service.
To request a demo go to http://www.wifiroi.net/request
Contact Info:
Name: Daemon Rutledge
Email: Send Email
Organization: Reputation Media TV - a division of Circle Consulting Agency
Address: 11 Thistleton Road Sicklerville NJ
Phone: (856) 441-0470
Website: http://www.reputationmedia.tv
Source: PressCable
Release ID: 135017