Reputation JUMP announced the availability of their new Reputation JUMP Pro Plus Service beginning 20th February 2019. More information can be found at https://reputationjump.com.au.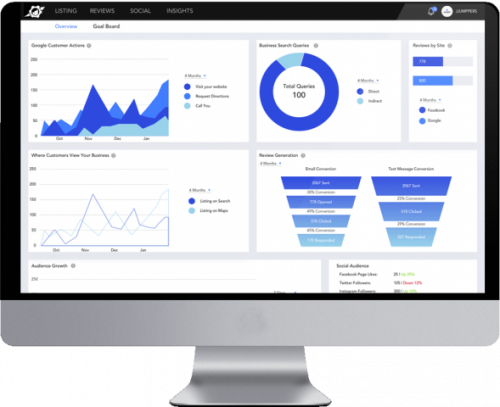 East Brisbane, Australia - February 16, 2019 /PressCable/ —
Local business owners wanting to get to the top of local search results will soon be able to get involved with Reputation JUMP. Today Pascal Martin, Sales & Marketing Manager at Reputation JUMP releases details of the new Reputation JUMP Pro Plus Service's development.
The Reputation JUMP Pro Plus Service is designed to appeal specifically to Local Business owners & Trade Services wanting to dominate & show up in the Google 3-pack of local search:
JUMP Pro Plus – This feature was included to rapidly boosted a local business's online presence and accelerates their prominence into the Google Local Search 3-Pack. This is great news for the local business owners & tradies, as being featured in the Google search 3 Pack virtually guarantees customers finding their business online and contacting them for their products and services first.
JUMP Pro Plus – This was made part of the service, since we wanted to give small business owners & trade service professionals a competitive advantage to rank in the top of local search results faster without breaking the bank. Local Business owners & tradies who invest in the service should feature more prominently in search results much quicker than normal SEO or PPC activities, dramatically cutting their marketing cost. These cost saving will help make the local business owner more competitive and better serve the local community they benefit.
Previously local business owners didn't have the budget to compete with the heavily marketed bigger companies rendering their business invisible online and missing the lions share of the local trade.
With JUMP Pro Plus local business owners and trade professional can take back the local business they serve so well. This benefits the local community no end because it's locals taking care of their own community.
The team at Reputation JUMP made sure to make the JUMP Pro Plus Service easy to use and cost effective to empower local business's to feature more prominently in their local community they serve. If local business thrive so does the local community. Consumers will also appreciate the local business owners using JUMP Pro Plus as it will make it easier for them to find their local service provider whom they know will better serve their needs, be more reliable and cares about their local community.
Pascal Martin, when asked about the Reputation JUMP Pro Plus Service said:
"It's empowering local business owners to standout, get found and serve more of their local community better."
This is the latest offering from Reputation JUMP and Pascal Martin is particularly excited about this launch because it empowers local business owners to standout from the bigger competition, generate more local trade and serve more people in their community.
Those interested in learning more about Reputation JUMP and their Reputation JUMP Pro Plus Service scan do so on the website at https://reputationjump.com.au
Contact Info:
Name: Pascal Martin
Email: Send Email
Organization: Reputation JUMP
Address: 4 Norman Street, East Brisbane, Queensland 4169, Australia
Phone: +61-7-3105-2871
Website: https://reputationjump.com.au
Source: PressCable
Release ID: 482861