Global Real-World Evidence (RWE) Solutions Market 2018-2024, provides pin-point analysis for changing competitive dynamics.The report covers market landscape and its growth prospects over the coming years. It also includes a discussion of the key vendors operating in this market.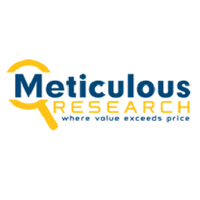 London, United Kingdom - May 27, 2019 /MarketersMedia/ — Real world evidence market has shown strong growth pattern in recent year's majorly due to rising geriatric population and burden of chronic diseases, shift towards value-based care, growing focus on personalized health care, delays in drug development and the subsequent increase in development costs, and expanding use of RWE for regulatory decision making. However, reluctance to rely on real-world studies, uneven quality of real-world data sources, and lack of standards may hinder the market growth to some extent.
Meticulous Research® in its latest publication on real world evidence market states that the global real world evidence market will increase at a CAGR of 15% from 2019 to 2024 to reach USD 1,644.8 million by 2024. Wherein, geographically, North America commanded the largest share in this market followed by Europe. The major share of North America is mainly attributed to significant availability of real-world data sets, growing focus on value-based care, rising R&D expenditure by the biopharma companies, greater emphasis on early drug/device development and approvals, presence of major RWE players in the region, and implementation of 21st Century Cures Act (December 2016), and FDA's Framework for RWE (December 2018) in the U.S.
Request Sample Report: https://www.meticulousresearch.com/request-sample-report/cp_id=4954
The report provides meticulous analysis of global real world evidence market by segmenting it on the basis of component (data sets, and consulting/services), application (drug development & approvals, by therapeutic area, market access & reimbursement/coverage decisions, clinical decision making, medical device development & approvals, and others), end user (pharmaceutical, biotechnology & medical device companies, healthcare payers, healthcare providers, and others). Wherein, among applications, drug development & approvals segment commanded the largest share in this market. The largest share of this segment is primarily attributed to significant demand of RWD and RWE to accelerate drug discovery and development, increasing investment by biopharmaceutical companies in R&D, and growing inclination of regulatory bodies towards RWE.
The key players analyzed in the global real world evidence market are Anthem, Inc., Clinigen Group plc, Cognizant, IBM Corporation, ICON plc, IQVIA, Optum, Inc., Oracle, PAREXEL International Corporation, PerkinElmer Inc., Pharmaceutical Product Development, LLC., SAS Institute Inc., and Syneos Health.
Browse in-depth Report on : https://www.meticulousresearch.com/product/Real-World-Evidence-Solutions-Market-4954/
Key Topics Covered in This Report:
1. Introduction
1.1. Market Definition
1.2. Currency and Limitation
1.2.1. Currency
1.2.2. Limitations
1.3. Key Stakeholders
2. Research Methodology
2.1. Research Process
2.1.1. Secondary Research
2.1.2. Primary Research
3. Executive Summary
4. Market Insights
4.1. Introduction
4.2. Drivers
4.2.1. Rising Geriatric Population and Burden of Chronic Diseases
4.2.2. Shift Towards Value-Based Care
4.2.3. Growing Focus on Personalized Health Care
4.2.4. Delays in Drug Development and the Subsequent increase in Development Costs
4.2.5. Expanding Use of RWE for Regulatory Decision Making
4.3. Restraint
4.3.1. Uneven Data Quality & Reluctance to Rely on Real-World Studies
4.4. Opportunities
4.4.1. Growth Opportunities in Emerging Markets
4.4.2. Rising Focus on End-To-End RWE Services
4.4.3. Emerging Roles of Wearable Devices and AI in RWE
4.5. Challenge
4.5.1. Lack of Standardized Methodologies to Develop RWE
5. Real-World Evidence Solutions Market, By Component
5.1. Introduction
5.2. Data Sets
5.2.1. Disparate Data Sets
5.2.1.1. EMR/EHR/Clinical Data
5.2.1.2. Claims & Billing Data
5.2.1.3. Pharmacy Data
5.2.1.4. Product/Disease Registries Data
5.2.1.5. Other Data
5.2.2. Integrated Data Sets
5.3. Consulting/ Services
6. Real-World Evidence Solutions Market, By Application
6.1. Introduction
6.2. Drug Development & Approvals, by Therapeutic Area
6.2.1. Oncology
6.2.2. Cardiovascular Diseases
6.2.3. Neurology
6.2.4. Immunology
6.2.5. Other Therapeutic Areas
6.3. Market Access & Reimbursement/Coverage Decisions
6.4. Clinical Decision Making
6.5. Medical Device Development & Approvals
6.6. Others
7. Real-World Evidence Solutions Market, By End User
7.1. Introduction
7.2. Pharmaceutical, Biotechnology & Medical Device Companies
7.3. Healthcare Payers
7.4. Healthcare Providers
7.5. Other End Users
8. Real-World Evidence Solutions Market, By Geography
8.1. Introduction
8.2. North America
8.2.1. U.S.
8.2.2. Canada
8.3. Europe
8.3.1. U.K.
8.3.2. Germany
8.3.3. France
8.3.4. Italy
8.3.5. Spain
8.3.6. Roe
8.4. Asia-Pacific (APAC)
8.4.1. Japan
8.4.2. China
8.4.3. RoAPAC
8.5. Rest of the World (RoW)
9. Competitive Landscape
9.1. Key Growth Strategies
9.2. Competitive Benchmarking
10. Company Profiles
10.1. Anthem, Inc.
10.2. Clinigen Group plc
10.3. Cognizant Technology Solutions (CTS) Corporation
10.4. IBM Corporation
10.5. ICON plc
10.6. IQVIA
10.7. Optum (A Subsidiary of United Health Group, Inc.)
10.8. Oracle Corporation
10.9. PAREXEL International Corporation
10.10. PerkinElmer Inc.
10.11. Pharmaceutical Product Development, LLC
10.12. SAS Institute Inc.
10.13. Syneos Health, Inc.
11. Appendix
11.1. Questionnaire
11.2. Available Customization
Request TOC and Sample Pages @ https://www.meticulousresearch.com/request-sample-report/cp_id=4954
Browse more related report:
Digital PCR (dPCR) and Real-time PCR (qPCR) Market by Product (Instrument, Reagent, Consumables), Technology (qPCR, dPCR), Application (Oncology, Pathogen Detection, Research, Forensic), End User (Pharma, Academic, Hospitals, CRO) - Forecast to 2024
Browse report: https://www.meticulousresearch.com/product/Digital-PCR-and-Real-time-PCR-Market-4968/
Clinical Decision Support Systems Market by Component (Services, Software), Delivery Mode, Product, Application, Model (Knowledge-based), Type (Therapeutic, Diagnostic), Interactivity (Active, Passive), and Settings - Global Forecasts to 2024
Browse report: https://www.meticulousresearch.com/product/clinical-decision-support-systems-market-4949/
Contact Info:
Name: Khushal
Email: Send Email
Organization: Meticulous Market Research Pvt. Ltd.
Address: London, United Kingdom
Phone: +44-203-868-8738
Website: https://www.meticulousresearch.com/product/Real-World-Evidence-Solutions-Market-4954/
Source URL: https://marketersmedia.com/real-world-evidence-market-rwe-solutions-market-will-reach-usd-16448-million-by-2024-meticulous-research/517159
Source: MarketersMedia
Release ID: 517159