This project was completed in order to accommodate larger US Airways aircraft which required re-routing a 36" ductile iron water main while the system and airport remained operational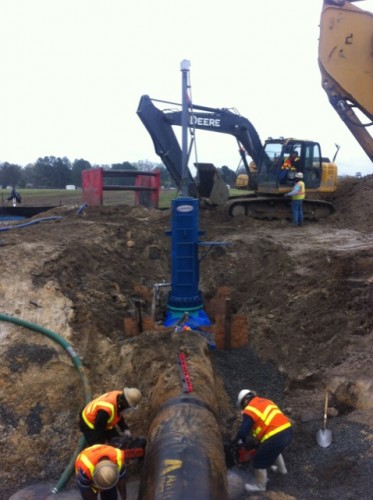 West Palm Beach, FL,, USA - - May 30, 2014 /MarketersMedia/ — Rangeline, a Florida-based wet tapping company, successfully helped the city of Greenville Airport Authority to lengthen their main runway. This project was completed in order to accommodate larger US Airways aircrafts. The problem however was that their main 36" water main was directly underneath the purposed expansion. Because this is such a critical pipeline, the City of Greenville called the world renowned Rangeline with their proven track record of high profile projects. Their experienced service technicians got the job completed without any service interruptions.
How Rangeline Achieved Success on Greenville North Carolina Airport Runway Project
The project included re-routing a 36" ductile iron water main all while the system and airport remained operational. First, Rangeline completed two 36" by 36" by-pass wet taps, both of which went flawlessly. Coupons were given to the city for further analysis.
From there, the utility contractor both assembled and pressure tested the brand new off-set piping. Once this was completed thoroughly, both wet tap valves were opened and the product was able to follow through existing pipe and the newly-installed by-pass piping.
With both of these lines active, Rangeline was able to install the two – 36' line stop fittings. These fittings were first tested then wet tapped and line stoppers were mounted into position. When the City and Airport Authority were ready, the Rangeline team inserted the line stops and the water flow was diverted from the existing main to the new offset. The Transfer of product was smooth with no service interruptions.
Rangeline has a proven track record of completing critical wet tapping and line stopping projects. Their experienced team is highly experienced and skilled to complete any project, big or small in order to Avoid downtime with custom fittings and trusted experience. For more information on their professional services, visit their official website at www.rangeline.com.
About the Company: Rangeline Tapping Services is a Valve Inserting, Line Stopping and Hot and Wet Tapping Company that works on high-quality service projects for a wide range of customers throughout the North American region. Their professional and knowledgeable staff performs piping and hot tapping services for both daily and emergency projects on small and large scale areas. Rangeline and its team use only the best and latest professional equipment and technology to get jobs done efficiently and in a steadfast manner. This allows them to work across the country on various projects for any type of customer.
Contact Info:
Name: Greg Foushi
Organization: Rangeline Tapping Services
Phone: 800-346-5971
Source URL: https://marketersmedia.com/rangeline-helps-us-airways-fly-in-greenville-north-carolina/46290
For more information, please visit http://www.rangeline.com
Source: MarketersMedia
Release ID: 46290