Proxy N VPN has updated their servers throughout the United States to the quickest and most powerful in the country, to provide peerless services to clients.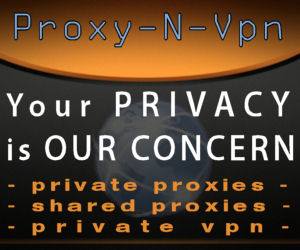 New York, NY,, United States of America - - April 22, 2014 /MarketersMedia/ — A proxy server allows individuals to mask their location by re-directing all their traffic through a second source, which is reported as the origin to websites and locations users visit. A virtual private network is a private virtual space that can be used by businesses or individuals to 'port' into from a remote device anywhere in the world and have access to theirs and other devices, creating a truly mobile experience for users while keeping them isolated and self contained. Proxy N VPN is a company that offers such services, and has upgraded their server set to be one of the most advanced available in the US.
Proxy N VPN's new servers are distributed throughout the US, including Miami Florida, Los Angeles California, Dallas Texas, Buffalo, Phoenix Arizona, Chicago Illinois, New York, Seattle and New Jersey to name but a few, providing the very fastest connection speeds as no matter where a business is, they can have a server practically on their doorstep.
The servers are also powered by Intel® Xeon® with 8GB of RAM and unlimited bandwidth, meaning they are powerful enough and fast enough to be used for everything a modern business needs, and they needn't worry about overusing the server. They are ideal for SEO proxies, private proxies, or even business proxies.
A spokesperson for Proxy N VPN explained, "Proxy servers and virtual private networks offer the ultimate in privacy, and this is at a bigger premium than ever thanks to the news stories circulating about Heartbleed, the latest in a string of viruses and hacks that have exposed how easy it is for cyber attacks to reach in and take businesses' most sensitive data. The upgrade we have undertaken has been to make our servers the most secure on the market, and with nationwide distribution, we are confident we can offer the best such services for proxies, VPNs and datacenters in the country. Our new SEO proxies have set a new standard in the market and we expect them to be extremely popular."
About Proxy N VPN:
Founded in 2012, Proxy N VPN is dedicated to protecting the online privacy and security of its users. Proxy N VPN is a leading company providing highly anonymous proxies and secure Virtual Private Networks. They provide an unparalleled level of service and support to our clients. Their experts are on site 24 hours a day, every day of the year.
Contact Info:
Name: Michael Connor
Organization: Proxy-N-Vpn
Phone: 672536027
Source URL: https://marketersmedia.com/proxy-n-vpn-launches-super-fast-seo-proxies-hosted-on-advanced-servers-across-the-us/41244
For more information, please visit http://www.proxy-n-vpn.com/
Source: MarketersMedia
Release ID: 41244