Profit Confidential's Michael Lombardi is releasing his expert opinion on the recent weakness in the prices of gold bullion and the increased chances that the central banks will use this opportunity to improve their own holdings.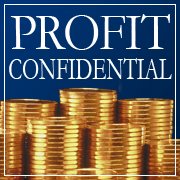 New York,, United States - - October 8, 2013 /MarketersMedia/ — Profit Confidential (www.ProfitConfidential.com), an e-letter published by Lombardi Publishing Corporation, a 26-year-old consumer publisher that has served over one million customers in 141 countries, is weighing in on the recent weakness in gold bullion prices and the increasing likelihood that central banks will use this pullback to enhance their holdings and increase their domestic autonomy.
While gold prices recently posted their strongest quarterly gains in a year, they are still down more than 20% year-to-date, according to Profit Confidential. In spite of the Federal Reserve's $85.0 billion per month monetary policy, the U.S. government shutdown, and the impending debt ceiling showdown, investors have been losing faith in gold as a store of value, says lead Profit Confidential contributor and financial expert Michael Lombardi.
Commenting on the decline of gold prices, Lombardi observes that, "The recent pullback in gold bullion prices has, in my opinion, created a great buying opportunity for investors, and I wonder if central banks are thinking the same."
Lombardi notes that central banks never preannounce when they are going to buy more gold bullion. "They are like an elephant trying to quietly step into a swimming pool," he says. "Central banks can cause gold bullion prices to quickly skyrocket if word gets out they are accumulating more of it. That's why we only hear about it after they have made their purchases. And as we have been seeing all year, central banks, especially emerging market ones, have been accumulating gold bullion."
Despite the pullback, many central banks have also said they have no interest in selling any of their holdings—confirmation that gold bullion is still very important as a store of value, Lombardi explains. And recent prices could, in fact, be a motivating factor to increase their holdings. That's because gold helps central banks combat both domestic and international financial instability and is a key component in helping keep central banks independent.
"The last time the U.S. debt ceiling debate was approaching, in 2011, gold bullion hit its all-time high of just over $1,900 an ounce," he adds. "Today, gold bullion prices stand much lower. Something doesn't sound right."
"Are gold bullion prices being manipulated? No one can say with certainty," Lombardi concludes. "But when I look at just the fundamentals of the equation—the shrinking supply and increasing demand for gold bullion—they keep me bullish on the yellow precious metal."
Founded in 1986, Lombardi Publishing Corporation, which has served over one million customers in 141 countries, is one of the largest consumer information publishers in the world. For more information on Lombardi Publishing Corporation and Profit Confidential, visit www.lombardipublishing.com.
Contact Info:
Name: Wendy Potter
Email: Send Email
Organization: Lombardi Publishing Corporation
Address: 350 5th Avenue, 59th Floor, New York, NY 10118
Phone: 905-856-2022
Website: http://www.profitconfidential.com
Source URL: https://marketersmedia.com/profit-confidential-weighs-in-on-gold-weakness-increasing-likelihood-of-enhanced-holdings/23701
Source: MarketersMedia
Release ID: 23701