Profit Confidential addresses two concerns regarding current overvalued market prices.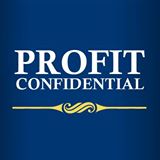 New York, NY, United States - November 19, 2014 /MarketersMedia/ — Profit Confidential (www.ProfitConfidential.com), an e-letter published by Lombardi Publishing Corporation, a 28-year-old consumer publisher that has served over one million customers in 141 countries, is weighing in on the current state of the stock market and revealing two major concerns about overvalued stock market prices.
U.S. stocks have rebounded solidly after experiencing a 10% correction in October, points out economist and lead contributor Michael Lombardi. On Friday, November 14, the S&P 500 recorded its 41st record closing high of the year. The Dow Jones Industrial Average retreated from its record high, but managed to post its fourth consecutive weekly gain. The New York Stock Exchange (NYSE) also continues to trade near record highs.
"Despite the exuberance on Wall Street, major concerns are arising about overvalued stock market prices," says Lombardi. "For starters, the amount of money investors are borrowing to buy stocks is skyrocketing. In September of this year, margin debt on the NYSE stood at $483.87 billion—a new record-high. When the stock market was forming a top in 2007, margin debt was at a then-record-high of $329.51 billion." (Source: "Securities market credit," NYXData.com; www.nyxdata.com/nysedata/asp/factbook/viewer_edition.asp?mode=table&key=3153&category=8, last accessed November 18, 2014.)
Lombardi explains that the stock market is, by one of the most popular measures, highly overvalued. According to the S&P 500 Shiller P/E multiple, a measure of the value of stocks compared to inflation-adjusted earnings, stocks are very expensive. As of November 6, this multiple stood at 26.51; this means that for every $1.00 a company makes, investors are willing to pay $26.51, says Lombardi.
From a historical perspective, using the S&P 500 Shiller P/E multiple indicator, stocks are severely overvalued. The S&P 500 Shiller P/E multiplies is at its highest level since October 2007, when the indicator stood at $27.30—and just before the last big market sell-off. Looking at the historical average of the Shiller P/E multiple of 16.57, the current stock market is overvalued by 60%. (Source: "U.S. Stock Markets 1871-Present and CAPE Ratio," Yale University Department of Economics web site; http://www.econ.yale.edu/~shiller/data/ie_data.xls.)
"Other indicators are also flashing stock market overvaluation warnings. Stock market advisor bullishness is at historical highs, the VIX 'fear' index is back near record-low levels, and bond funds are increasing their risk levels by investing in the stock market," Lombardi concludes. "While November and December are generally good months for stocks, the markets are poised to stall, especially in light of the fact that the Federal Reserve has stopped its bond buying program and warned of higher rates in 2015 and 2016. With that in mind, how can stocks move higher?"
To find out more about Profit Confidential, one of the largest consumer information publishers globally, visit www.ProfitConfidential.com.
Contact Info:
Name: Wendy Potter
Organization: Lombardi Publishing Corporation
Address: 350 5th Avenue, 59th Floor, New York, NY 10118
Phone: 905 856 2022
Source URL: https://marketersmedia.com/profit-confidential-reveals-two-major-concerns-propping-up-overvalued-stock-market/68680
For more information, please visit http://www.profitconfidential.com/
Source: MarketersMedia
Release ID: 68680