Passionate Care LLC has relaunched its line of stethoscopes for better hearing and comfort when used by nurses. The products also help build trust between practitioners and their patients.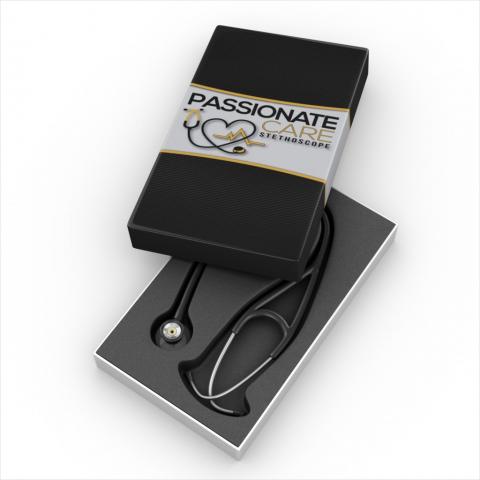 Santa Clarita, United States - October 18, 2020 /PressCable/ —
A new line of Premium Stethoscopes is available at Passionate Care LLC. The instruments are designed to give medical practitioners longer comfort and more confidence when dealing with their patients.
More information can be obtained at http://www.passionate.care
According to a representative, the health and pharmaceutical company aims at providing the quality of sound that one would like to hear when placing the bell of the newly announced product on a patient's chest. Designed especially to suit nurses, the Premium Stethoscopes will help them decide faster whether or not the patient has a serious wheezing condition or if their breathing is clear.
Further, the representative assured that with the instrument's solid thicker tubing, practitioners will be able to hear patients' blood pressure, heart rate, heart tones, and lung sounds in its purest form. Added to this, the tight seal that the instruments are equipped with allows users to hear better without interruptions from outside noises.
The Premium Stethoscopes also come with a bell that has two sides. This, according to the representative, gives users the option of choosing which side they want to use, by twisting it.
Passionate Care LLC understands that nurses have to be certain about the seriousness of the condition of the patients they're assigned to before handing over to the doctor. As such, the company has what is considered stethoscopes that are of a higher quality than those supplied by hospitals or even some top brand products.
Apart from being more accurate in determining the respiratory and other conditions of patients, the Premium Stethoscopes can also be worn for hours without causing discomfort to the ears due to the soft earpieces. Additionally, the bell, which is usually the heaviest part of a stethoscope, is made out of aluminum which makes it lighter and easier on a practitioner's neck.
More details on the unique features of the stethoscope can be found at https://passionatecarestethoscope.com/products/premium-stethoscope
The Premium Stethoscopes have received positive reviews from satisfied customers. One such testimonial came from Terry, a nursing student who was in her first semester when she bought one of the Passionate Care LLC instruments.
"My other classmates bought stethoscopes at the college bookstore (cheap and low quality). My Passionate Care stethoscope has held up to its name. I normally have a harder time hearing blood pressures, but with this stethoscope, I can hear the heartbeat and apical pulses, etc. even when I am in a louder environment. One of my fellow classmates had to buy a new stethoscope, which she spent more money on than I did. Another classmate had… to buy another one as well. The stethoscope is definitely worth the money that I spent," she stated.
Interested parties can find out more about the Premium Stethoscopes by clicking on the links above.
Contact Info:
Name: Raul Meza
Email: Send Email
Organization: Passionate Care
Address: 18283 Arial Way, Santa Clarita, Ca 91351, United States
Phone: +1-855-424-3007
Website: http://www.passionate.care
Source: PressCable
Release ID: 88981289