"Red Rising" is a modern Power Rangers Fan Film about Jason, the original Red Power Ranger. The channel and video content can be found at https://www.youtube.com/channel/UCNED3I5XjbzUkrdoYTE7mtw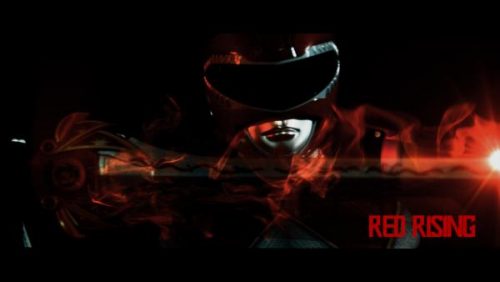 Farmington, United States - March 16, 2020 /PressCable/ —
Power Ranger Fans/Action Film Fans/Comic-Con/Filmmakers/Producers/ looking for the latest information on The making of a fan film about Jason, the original Red Power Ranger. are invited to subscribe to the all-new YouTube channel by Tomahawk Ridge Films LLC. This new channel promises to provide expert guidance and information on The making of a fan film about Jason, the original Red Power Ranger., on a regular basis.
This new YouTube channel was created specifically with the needs of People involved with Power Ranger fan activities / Cosplayers and artists who attend conventions and events dedicated to pop culture / Independent filmmakers and professional studios / in mind, and Tomahawk Ridge Films LLC welcomes input on which topics to explore.
Brent Garcia , Director at Tomahawk Ridge Films LLC said: "We just want to create amazing stories that the Power Ranger fans haven't seen on screen before. We hope to do the original creators and cast proud by staying true to the original series while bringing it forward for an older audience to enjoy.."
Tomahawk Ridge Films LLC's Director goes on to say: "The aim of the new YouTube Channel is to The goal of this channel is to bring awareness to the talented filmmakers in NW New Mexico, and to create amazing fan based Power Rangers content. Our team is dedicated to creating something of the highest quality that the fans can enjoy.. The more feedback we can get, the better we can serve our audience.
Anybody interested in The making of a fan film about Jason, the original Red Power Ranger. and current Tomahawk Ridge Films LLC fans and supporters, can subscribe to the YouTube channel here https://www.youtube.com/channel/UCNED3I5XjbzUkrdoYTE7mtw
Alternatively, they are welcome to read more on the company website at: https://tomahawkridge.film
Some of the planned subjects for upcoming videos include:
Red Rising – Power Rangers Fan Film – The story is a modern, gritty take on what happens to the original Red Ranger played by Gareth West in this film, after he loses his power. Years after having to give up being a Ranger, Jason Lee Scott, the Red Ranger must deal with the trauma he received from his time as a hero. Is Jason up the the challenge of handling a new threat when his past comes back to haunt him? Watch the train right here: https://youtu.be/2SCzwj-X8Us DISCLAIMER: This is a non-profit fan film. All rights and trademarks of Power Rangers or associated properties belong to their respective copyright holders. NM Film / Collaboration / Showcase – Red Rising is a fan film made by Power Rangers fans for Power Rangers fans. This is a not for profit project that is a collaboration between Gareth West (professional voice actor) Film Four Corners (non-profit organization) and Tomahawk Ridge Films (Production Studio) The wanted to showcase the talent, locations, and capabilities of the teams in Northwestern NM. Tomahawk Ridge is a brand new production entity located in Farmington, NM. Brent Garcia has worked on several independent and major studio productions. He also served as the economic development for Film and TV production for San Juan County helping to secure a $1,000,000 Grant from the state to develop a production facility for the area. Garcia is the director of Red Rising and the producer with his business partner Michael Kent. Film Four Corners is a non-profit organization dedicated to training, education, and developing a sustainable film and TV industry in San Juan County. In 2019, FFC held its first annual film festival. This event screened over 160 films, hosted over 20 educational and training workshops, and had celebrity Q&A panels that included Vivica A. Fox (Kill Bill, Independence Day) Noel Gugliemi (Fast and the Furious, Training Day) Quinton Aaron (The Blind Side) Shawn Caulin-Young (Deputy, Heart Baby!) Poppin Jon (World of Dance season 3 runner up) and MANY More! Gareth West is the writer, producer and lead actor in Red Rising. West plays Jason, the character originally made icon by Austin St. John in the original "Mighty Morphin Power Rangers" series. Gareth is an actor, known for Black Clover (2017), To Love-Ru (2008) and Haikyuu!! (2014). Fan / Fan Film/ Kickstarter / – It his the goal of the Red Rising team to hold a Kickstarter campaign in the coming months to produce either a feature length Power Rangers fan film, or several episodes that will be made available through their YouTube channel. Follow them on social media to stay up to date on the campaign, prizes, and upcoming events.
After the YouTube Channel launch March 16th, new viewers can view all the latest videos here: https://www.youtube.com/channel/UCNED3I5XjbzUkrdoYTE7mtw
Further details on the channel, the direction and other information on Tomahawk Ridge Films LLC itself can be found on their website: https://tomahawkridge.film
Contact Info:
Name: Brent Garcia
Email: Send Email
Organization: Tomahawk Ridge Films LLC
Address: 5101 College Blvd. Suite 5315, Farmington, New Mexico 87402, United States
Website: https://tomahawkridge.film
Source: PressCable
Release ID: 88949924