Whitelabel SEO reporting is just one method used to ensure clients receive the maximum ROI.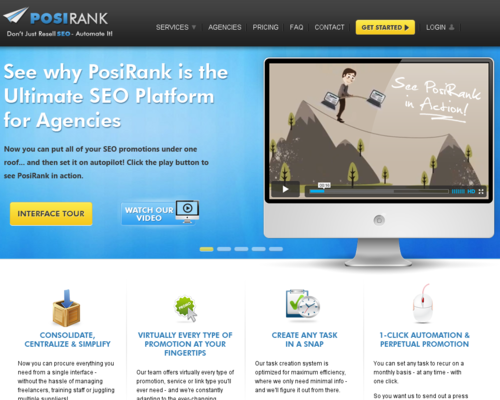 Glen Burnie, MD,, United States of America - - January 7, 2014 /MarketersMedia/ — According to Focus Research, marketing automation remains the fastest growing CRM-related segment and has held this position for the previous five years. Yet, according to a 2011 Focus survey, 50 percent of respondents stated they have yet to realize the full value of the money they have invested in marketing automation. "PosiRank works to ensure that every client obtains the maximum return on investment when using our marketing automation platform and offers whitelabel SEO reporting to allow clients to monitor every action taken on their behalf," Alex Miller, company spokesperson, declares.
PosiRank simplifies the marketing automation process, making it easy for clients to stay in constant communication with their customer base. Detailed reports outline every action taken within the PosiRank platform while offering one-click access to a live keyword tracking dashboard for each customer. Clients retain the ability to generate reports based on any selected date range or by individual completed task. "Flexibility continues to be of great importance to those in the marketing field as industry conditions can suddenly change, based on external factors. The whitelabel SEO reporting feature of PosiRank allows clients to stay informed at all times and to easily share the information obtained with their customer base," Miller explains.
As some clients feel manual report generation consumes too much time, PosiRank also offers fully automated delivery options. "Once a client configures the scheduling parameters to be used, PosiRank does the rest. The reports, as with those manually generated, are comprehensive and yet show no connection to PosiRank so customers won't know the client is making use of an outside source for this task," Miller continues.
PosiRank strives to fully automate the marketing process, and the white labeled reporting is just one aspect of this process. In addition to report generation, PosiRank also handled live keyword tracking, one-touch campaigns, fully agency integration, SEO automation and more. Social bookmarks and social sharing, deeplinking directory submissions, and video distribution remain other options available to clients of PosiRank.
"PosiRank stands out from others claiming to offer superior marketing automation in one area and that is in the workforce retained by our company. Content creation tasks taken on by PosiRank are handled by an American team, rather than being outsourced overseas, and this shows in the quality of work. Marketing efforts frequently tend to be a potential customer's first interaction with a company, therefore businesses need to ensure their marketing continuously meets the highest standards of quality. When PosiRank marketing automation is used, this is always the case," Miller exclaims.
About PosiRank:
PosiRank offers clients the opportunity to place all SEO promotions under one roof, before setting these promotions on autopilot. From world-class SEO to comprehensive reporting, PosiRank takes on these tasks to drive amazing performance for clients in very little time. Clients find this allows them to grow their business and achieve massive profits as they receive access to virtually every type of service, promotion or link type, all in one central location and PosiRank continuously adapts to the ever-changing SEO climate, so clients don't have to.
Contact Info:
Name: Alex Miller
Organization: PosiRank
Phone: 877-786-0549
Source URL: https://marketersmedia.com/posirank-ensures-clients-receive-the-maximum-roi-for-their-marketing-automation-costs/29770
For more information, please visit http://www.PosiRank.com
Source: MarketersMedia
Release ID: 29770