The North American railcar leasing market is witnessing transition as more than 1.5 million railcars are seen chugging through its vast landscapes.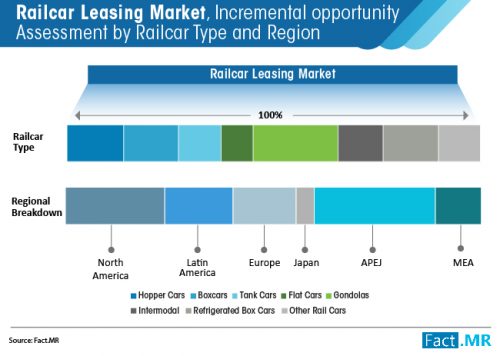 Rockville, United States - October 30, 2019 /MarketersMedia/ — The railcar leasing landscape is witnessing a massive transformation as key stakeholders in the market are entering into strategic partnerships and collaborations to consolidate their positions and acquire bigger chunks of the market share. This is evidenced by the recent collaboration between European rail freight heavyweight DB Cargo and VTG a rolling stock leasing company. The two have joined hands and are propounding ground-breaking research that is aimed at introducing energy-efficient and cost-effective freight wagons.
Request Sample Report- https://www.factmr.com/connectus/sample?flag=S&rep_id=264
Digitalization of the railcar's operational capability and optimization of dispatch were the two other things that came under the ambit of this research. The final results of this research revealed that the new railcar wagons not only consumed 3%-8% less traction energy but also considerably reduced their lifecycle costs. Key market players stand to benefit immensely by taking a leaf from the pages of research initiatives such as this and adopt game-changing ways to reduce energy consumption and incur lesser costs on newer models of railcars.
Key Takeaways of the Railcar Leasing Market
• IoT technology is revolutionizing the market space and its effects have clearly permeated the railcar leasing market as is evidenced by this study done by Fact.MR. IoT is paving the way for seamless inter-connectivity between all the modals of the supply chain.
• Thus IoT is enabling digital assistance for loading and unloading, freight car management and paving the way for asset management through prompt arrival and departure notifications. The advent of connected technology in the arena of railcar leasing will serve to boost the growth of this market which is brimming with potential.
• The North American railcar market is seeing an upsurge thanks to large scale investments being done by astute market players in the railcar leasing market. If the investing trends are anything to go by, the returns on investments in the railcar leasing market can range between 8-10%. This can be attributed to the minimal upkeep required for the cosmetic maintenance of railcars.
• Railcar leasing is seen as a profitable and lucrative investment avenue as they help in fulfilling all the critical functions of the supply chain. Manufacturers in the industrial and agricultural sectors benefit immensely from railcar lease. Since railcars are one of the easiest and most efficient ways for transportation of industrial and agricultural raw materials in bulk, the railcar leasing market will see unprecedented growth over the coming years.
"The high cost of leasing out railcars and their exorbitant price along with the intricate cash flow process could pose an impediment to the growth of the railcar leasing market. Some of the railcar regulations and legislations are highly in favor of the lessor and this could detract some manufacturers from investing in this market", Says the Fact.MR Analyst.
Request Research Methodology- https://www.factmr.com/connectus/sample?flag=RM&rep_id=264
Innovations in Containerization to Promulgate the Growth of the Railcar Leasing Market
• Two chemical manufacturers, BASF and Belgian manufacturer Van Hool have joined hands in a lucrative venture and innovated tank containers that can be transported along with railcars.
• These containers not only deliver an astounding payload but can also be stacked one top of each other for more efficient storage. Such innovations are undoubtedly disrupting the railcar leasing market and will continue to proliferate the growth of the market over the forecast period.
Massive containerization has also been witnessed in the food and beverage industry which will further bolster the growth of the market. Railcar leasing is governed by strict regulations especially during the transportation of flammable liquids and crude oil. Since oil prices have been fluctuating, its demand via railcar transportation will have a cascading effect on the market.
Find More Valuable Insights on the Railcar Leasing Market
Fact.MR, in its new offering, brings to fore an unbiased analysis of the global railcar leasing market, presenting historical demand data (2014-2018) and forecast statistics for the period, 2019-2029. The study divulges compelling insights on the vegan pasta market on the basis of railcar type (hopper cars, box cars, tank cars, flat cars, gondolas, intermodal, refrigerated box cars, other railcars), End use (Agri-produce, forestry, F&B products, mining products, petrochemical and gases, automotive and components, energy equipment and products, rail products, industrial goods, construction goods) and six major regions.
Preview Analysis of the Global Railcar Leasing Market Report- https://www.factmr.com/report/264/railcars-leasing-market
About the Automotive Division at Fact.MR
Expert analysis, actionable insights, and strategic recommendations – the automotive team at Fact.MR helps clients from all over the globe with their unique business intelligence needs. With a repertoire of over 1,000 reports and 1 million plus data points, the team has analysed the automotive industry lucidly in 50+ countries for over a decade. The team provides end-to-end research and consulting services; Reach out to explore how we can help.
View all automotive industry insights at- https://www.factmr.com/category/5/automotive
About Fact.MR
Fact.MR is a fast-growing market research firm that offers the most comprehensive suite of syndicated and customized market research reports. We believe transformative intelligence can educate and inspire businesses to make smarter decisions. We know the limitations of the one-size-fits-all approach; that's why we publish multi-industry global, regional, and country-specific research reports.
Contact Info:
Name: James Martin
Email: Send Email
Organization: Fact.MR
Website: https://www.factmr.com/
Source URL: https://marketersmedia.com/pioneering-research-and-development-initiatives-to-boost-the-growth-of-the-railcar-leasing-market-says-factmr/88931614
Source: MarketersMedia
Release ID: 88931614