Springs Phytoceramides is proven to restore the skin and transform it into a glowing youthful skin again. This is one of the most potent and effective phytoceramides available.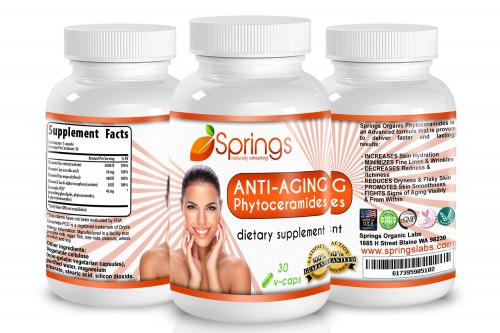 Blaine,, USA - - April 3, 2014 /MarketersMedia/ — Springs Phytoceramides Reduces fine lines and wrinkles. It nourished the skin and restores the long-gone youthful skin and texture. It works from within the skin to replenish it and restore its glow and smoothness.
Phytoceramides are the plant-derived equivalent to the body's ceramides. This is a lipid that naturally occurs in the skins membrane which helps the skin stay hydrated on the cellular level. Environmental factors as age and poor nutrition will naturally reduce the amount of ceramides in the skin, leaving the skin dryer and more prone to wrinkles.
Springs Organic Phytoceramides is one of the most effective Phytoceramides available.
Springs Phytoceramides is based on the most effective phytoceramide patent - Ceramide-PCD by Oryza Clinically proven to be 35% more effective than wheat-based phytoceramides
Clinical studies have shown that the ingredients in Springs Phytoceramides help to:
-Replenish the natural ceramide levels
-Promote Skin Smoothness
-Restores skin beauty from within
-Nourish, Restore, and Strengthen New Collagen
-Reduces fine lines and wrinkles
-Improves skin's firmness and elasticity
-Smoothes rough aging skin
-Increases skin hydration and Reversing Damaged Skin
-Eliminate appearance of fine lines and wrinkles
According to Dr. Oz, ""Faking a facelift may be as easy as taking one little pill! Phytoceramides help to reduce fine lines and wrinkles and improve the structural integrity of the skin."-Dr. OZ
Why the use of phytoceramide cannot be considered faking beauty, it is important to note that phytoceramide can easily lift-up and nourish rough and aging skin, rejuvenates and smoothens the skin, and eliminating the appearance of fine lines and wrinkles. This is made possible by the activation of the body's ceramide in the cellular level. All it takes is a little pill once each day to experience all these benefits.
About Springs Organic:
Highly qualified scientists in the area of quality organic skincare products set their sights on producing an organic alternative to the aggressive and often dangerous dermatological processes currently used to deal with premature aging and facial wrinkles. Through extensive testing and research, with the highest quality, natural ingredients, Springs Organic Phytoceramides was created and released for use in 2014. It is currently available at Amazon
Contact Info:
Name: Sharon Allison
Organization: Springs Organic Laboratories
Address: 1685 H Street Blaine Washington, 98230
Phone: 3602557376
Source URL: https://marketersmedia.com/phytoceramides-springs-organic-announces-a-plant-derived-phytoceramides/39093
For more information, please visit http://www.springslabs.com
Source: MarketersMedia
Release ID: 39093