eTruck LSV of Sarasota, FL launches its game-changing new fleet of light-duty electric trucks that offer customers a cost-efficient and versatile vehicle that is kinder to the environment.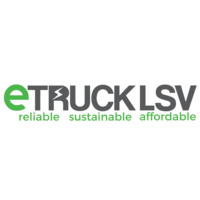 Sarasota, United States - August 13, 2020 /NewsNetwork/ —
Sarasota, FL-based eTruck LSV announces the launch of its new fleet of light-duty electric trucks. These vehicles offer customers an eco-friendly transportation alternative that is both versatile and cost-efficient.
More information about eTruck LSV can be found at https://www.etruckonline.com.
The transportation sector accounts for 28% of all the country's greenhouse gas emission, making it the largest contributor. Electric vehicles present an effective solution to this crisis as they run off electricity rather than fossil fuels.
However, eTruck LSV founder Pat Bombard highlights that while there are many electronic passenger vehicles available, so-called green trucks are harder to come by. To address this gap, the company launched a fleet of low-speed trucks designed for light-duty transportation needs.
These vehicles are ideal replacements for full-sized transport trucks in universities, municipalities, manufacturing centers, parking lots, warehouses, recreational parks, gated communities, and condominium complexes. The company says that eTrucks are right-sized options that can fit anywhere from two to four passengers.
The biggest draw of these vehicles is the savings. The company estimates that companies can save up to $1,200 a year on fuel, $600 a year on maintenance, and $620 on insurance premiums.
The 100% electric motor has a 120-mile range, allowing drivers to move more materials or passengers than any other solution in the marketplace. Since the vehicle is fitted with a solar panel on the cab top, it can top up its own battery, making it even more cost-efficient. Each vehicle comes with a five-year bumper-to-bumper warranty, the longest such protection on the market.
The company also notes the environmental benefits of the eTruck. With zero tailpipe emissions, it can contribute to better air quality and a healthier community. Moreover, it can drastically reduce a company's fossil fuel consumption and thereby its carbon footprint.
Bombard says: "These eTrucks prove that economy and eco-friendliness do not have to be mutually exclusive. They provide a transport alternative that is truly a win-win solution for everyone involved."
More information about eTruck LSV and its offerings is available via the URL above.
Contact Info:
Name: Pat Bombard
Email: Send Email
Organization: eTruck LSV
Address: 6497 Parkland Drive Ste F , Sarasota, FL 34243, United States
Website: https://patbombard.com
Source: NewsNetwork
Release ID: 88972336