Parody Parlour taking art to funny heights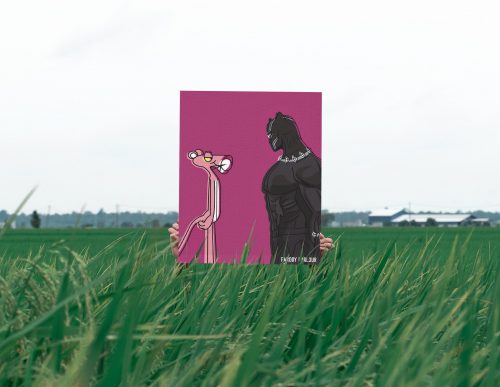 July 2, 2019 — Can superheroes make us laugh like never before? The LYAO (laugh your ass off) collection will never fail with its silly and zany approach to art and life. The debut collection of Parody Parlour can be bought from its official website.
LYAO is themed around popular superhero characters, who are ruling the universe with their powers, but also have a funny side to display. Parody Parlour captures this humour to create a new genre of art that stands out from the conventional stuff.
Click here to view a collection of Parody Parlour.
"Humour is a tool we use often in our designs. This is our culture, and we like it like that. We're all about turning conventions over one after another," says Jahow See of Parody Parlour.
Every piece of art from this collection is a treasure to keep. The Natural Enemy is inspired by Ironman, but gives it a twist. A strong suite that is unbeatable, but funny things happen when it meets an equally strong magnet.
Superbelly is a unique way to send a message for people to mind their diet and be health conscious as the mighty superheroes put on weight too. Designed in 2016, the artwork plays around a funny waistline that's the result of a late night fill up and a two-for-one deal at the doughnut shop.
Another cool art is the Family Ties-In. The message here is universal, and says one can't pick one's family like picking friends, or nose. Magical Moment gives a funny twist to the creation them, depicting two fingers in a superhero theme.
All fine quality canvas prints are durable and long lasting. The prints are shipped framed and unframed, and are available from Parody Parlour in four sizes. Shipping takes 5-7 business days.
For more information, please visit: www.parodyparlour.com
Click here to connect via Instagram
Contact Info:
Name: Jahow See
Email: Send Email
Organization: Parody Parlour
Website: http://www.parodyparlour.com
Release ID: 526159