Palette introduces advanced OCR invoice scanning and invoice capture software, adding compliant services for invoice collection, preparation, and intelligent data capture to its platform.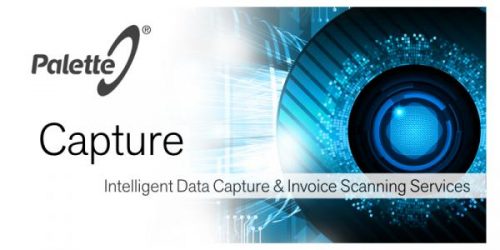 Chicago, United States - June 5, 2018 /PressCable/ —
Palette Software North America has added secure services for invoice collection, preparation, and data capture to its AP automation and Purchase to Pay platform. The technology combines sophisticated high-speed scanning with advanced form identification and Artificial Intelligence (AI) to automate the processing of both paper and electronic invoices.
Invoice collection and capture is the initial step in implementing a Purchase to Pay automation solution. Once invoices have been digitalized, Palette's software uses the data for invoice processing, mobile approval workflows, and the automated matching of purchase orders, goods receipts, and contract data.
A PayStream Advisors report on invoice approval workflow trends found that 72% of organizations that implement an AP solution see quicker approval times, while 57% report greater productivity.
"Preparing invoices for the ERP is a major pain point for many companies", said Roxanne Imrick, Director of Business Process Consulting for Palette, "Paper invoices and emailed invoices are the most common form of invoice format used today, and Palette's Capture has the capacity to securely and efficiently process those formats, regardless of file type or size."
The invoice scanning security program addresses areas such as information privacy, compliance, electronic communications policies and procedures, computer security, user guidelines and security awareness.
Facilities and operation procedures are compliant with HIPPA, PHI, GLBA, PCI, Sarbanes-Oxley, FISMA, SEC, Fair Credit Reporting and State mandates. Experienced staff are certified in Six Sigma® methodologies. Appropriate physical controls are in place to provide secure access to facilities and sensitive controlled areas at all scanning facilities.
The invoice capture software uses AI and capture automation to extract data from electronic invoices. Palette's Digital Capture is capable of automatically and intuitively detecting and learning unique supplier invoices based on their respective layouts. Accuracy rates for paper are 95%, and 100% for pure electronic formats.
Follow the link to learn more about Palette Capture
About Palette Software
The AP process affects many roles in an organization and procedures are complex and unique to every industry. AP software has to be flexible enough to handle all the variables, be intuitive for users, and provide seamless integration.
Palette Software is a leading provider of Purchase to Pay automation, with 3,500 clients worldwide and approval ratings of 95%. Palette is a global solution for companies with multiple ERPs, multiple countries, currencies and tax rules. Customers get unlimited users with no user license costs, bulletproof compliance control and minimal I.T. involvement.
Learn more about Palette Software
Contact Info:
Name: Michael Cichy
Email: Send Email
Organization: Palette Software
Address: 332 S Michigan Avenue 9th Floor, Chicago, Illinois 60604, United States
Phone: +1-508-341-8101
Website: https://www.palettesoftware.com/us
Source: PressCable
Release ID: 355483