Leashboss, a dog training equipment company located in San Diego, launched City Handler, a short-to-medium nylon leash with padded grip handle. The leash comes in two sizes, 4 and 6 feet, and is equipped with a padded handle for handling comfort.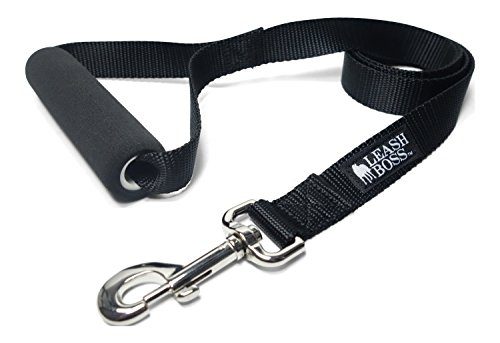 San Diego, United States - April 21, 2017 /PressCable/ —
Leashboss, a San Diego company specializing in dog training products, launched City Handler, a short-to-medium nylon leash with padded grip handle for extra control and comfort.
More information is available at https://www.leashboss.com/collections/standard-leashes/products/city-handler-dog-leash-with-handle-for-large-dogs?variant=28024559505.
Dog training is crucial for the quality of the dog-owner relationship, as it allows the owners to cooperate with their dogs in a variety of day-to-day situations, and it teaches the dog to behave appropriately around people, dogs and other animals.
Leash walking is one of the most important aspects of dog training. Most dogs do not walk appropriately without adequate training, thus making it essential for dog owners to ensure that their dogs are adequately trained. Various leash lengths are used for different leash walking purposes, as different lengths allow for different degrees of control.
Leashboss launched City Handler, a 4-6 foot nylon dog leash with padded grip handles for medium to large dogs.
The City Handler is a versatile leash that comes in two sizes, 4 or 6 feet. Made of 1 inch wide nylon, the leash is designed for increased endurance under heavy pulling, and it is suitable for medium and large dog breeds.
As leash burn is usually a problem with bare nylon or leather leashes, having a solid padded grip can significantly increase the comfort of handling a dog leash. The City Handler is equipped with a padded grip handle for increased comfort, and the solid, unbending handle is especially suitable for those suffering from arthritis or other movement-impending conditions.
In an effort to create a competitive short-to-medium leash, Leashboss uses professional leash designs and materials. The stitching on the nylon is reinforced, the foam handle comes with a durable, unbending plastic core, and the swivels are designed to rotate to prevent twisting.
Interested parties can find more information by visiting the above-mentioned website, as well as https://www.amazon.com/Leashboss-City-Handler-Handle-Leash/dp/B01DUSCD4E.
Contact Info:
Name: Paul Sharer
Organization: Leashboss
Address: , San Diego, United States
For more information, please visit https://www.leashboss.com
Source: PressCable
Release ID: 189148